BitMart, a premier global digital assets trading platform with over 5 million users worldwide and ranked among the top crypto exchanges on CoinMarketCap, will list Civilization (CIV) on Sep. 22, 2021. For all BitMart users, the CIV/ETH trading pair will be officially available for trading at 6:00 AM EDT.
After this first listing, the Civilization token is scheduled to also be listed with the Probit and Bittrex exchanges within the next two weeks, an exciting start for such a young token project. Since the birth of the Civilization community on July 31st 2021, word-of-mouth has led to over a thousand investors providing over $3 million in locked-in liquidity value in just over a month. A fixed supply of 300 million CIV tokens are locked entirely in liquidity pools that are traded on the Ethereum blockchain – the second largest cryptocurrency in the world after Bitcoin. 
Civilization aims to provide its community with a sustainable, external source of wealth from outside its own ecosystem, so that the token price can ultimately achieve a predictable pattern of growth driven by the returns of the underlying investment fund.
Civilization (CIV): Price Prediction and Market Expectation
We are in the midst of historical changes to the economic system. Ordinary people using their handheld devices are transforming the role of Central Banks, Hedge Funds and Financial Institutions. Blockchain technology is changing how we perceive, interact with, and use money. The world of Decentralized Finance (DeFi), is one of the hottest areas of crypto at the moment, having undergone explosive growth in 2021. But all this is still only accessible to few tech-savvy investors.
The Civilization crypto community, whose members choose to brand themselves CIVians, launched the CIV token to bring the benefits of decentralized finance to everyone. Their new "Decentralized Investment Fund" (DIF) will be the first fully community-led, automated and decentralized fund to let anyone make markets and earn fees. The initial trading strategy has already demonstrated an average daily return of 1%, and their goal is to build technology that generates at least 500% in Annual Percentage Returns (APR) over the next twelve months.
CIVians can enjoy significant economic benefits from CIV ownership:
Investment returns are automatically reinvested for maximum compounding.

At exit, investors receive 80% of returns plus the initial tokens staked.

10% of returns buy CIV to burn them and the remaining 10% funds execution costs.
All the investment activity is fully automated, so CIV works hard while investors reap the rewards without the unnecessary trial-and-error of continuously evolving markets. Rewards will be tracked via dedicated analytics pages, updated in real-time.
The project was originally started by an anonymous visionary called Sator, inspired by the legendary founder of Shiba Inu, Ryoshi. Civilization was in fact born exactly 365 days after Shiba Inu, with which it shares the community-first ethos. However, unlike Shiba, the decentralized community-driven ethos of Civilization is directed towards an ambitious goal with global impact: to bring about a revolution in the DeFi world and the broader finance community, transforming the way their investments are managed. 
Even during the initial times of bearish crypto markets, the team focused on the vision and ambition of CIV, free of the short-term greed typical of bullish markets. The founder Sator commented:
"We were labelled crazy for starting a project at a time when market sentiment was not positive. The point is that CIVians are not interested in get-rich-quick schemes, but are passionately committed to building and revolutionizing the DeFi landscape. Time will be our travel companion".
The still small but vibrant and active community of Civilization have already rapidly achieved significant milestones, such as the creation of a professional website and CivPaper and are working towards the price target set by Sator of $100 per token, to be achieved when all product launches have been successfully completed, and $1 per token in the initial pre-launch stage.
What to expect from a Decentralized Investment Fund?
Decentralized Investment Funds (DIF) bring together three dedicated human communities:
Traders: researchers who invent, test, and specify new strategies 

Developers: software engineers who code, build and audit the strategies

Marketers: passionate believers who spread the word and attract investors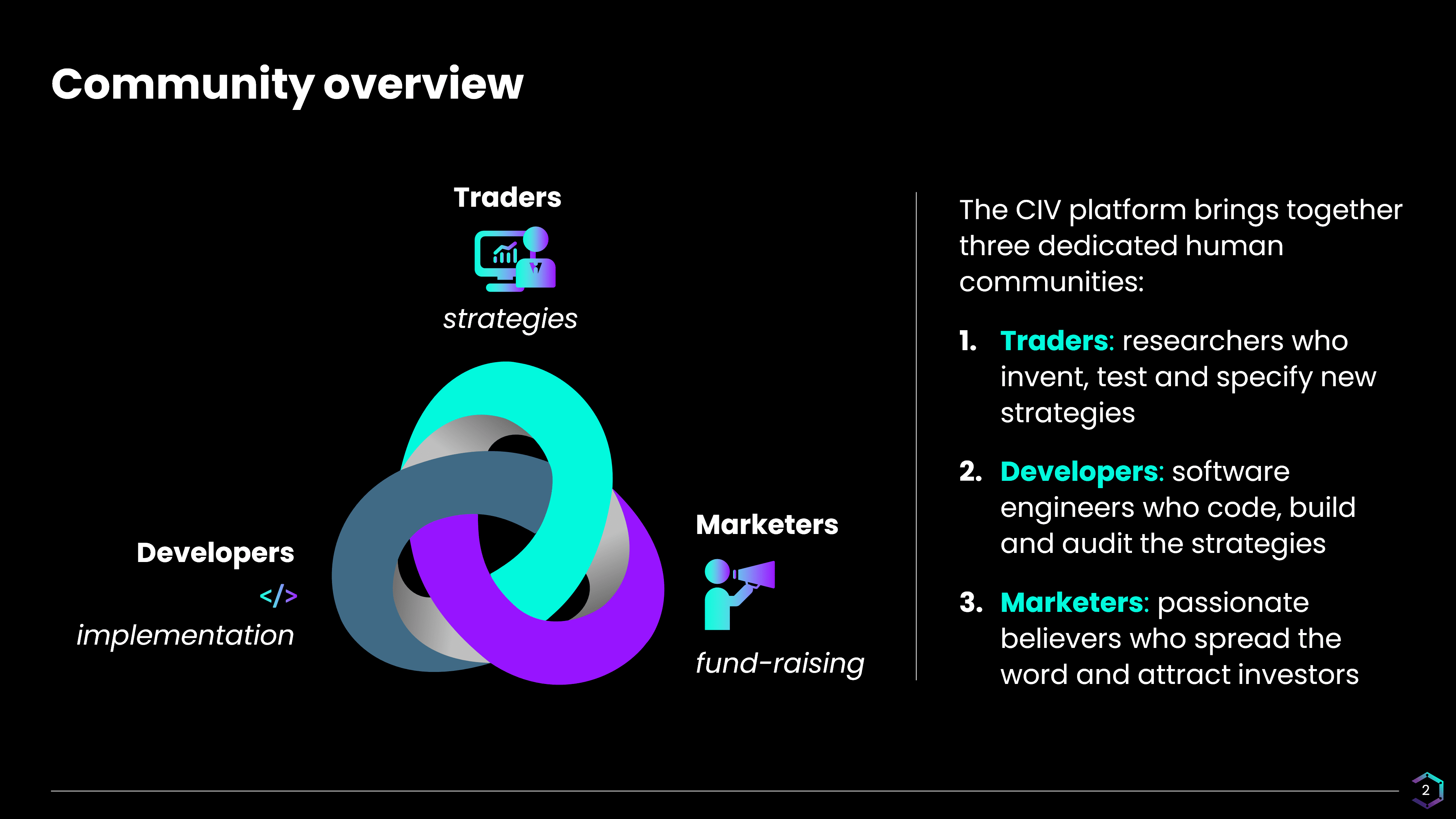 The aim is to allow everyone in the world, regardless of current financial status, to participate in the exciting and lucrative world of investing. Previously, investment opportunities were reserved strictly for celebrities or those who already owned significant wealth. Essentially, "the rich got richer". But this new type of fund promises to make investing much more inclusive, by creating a self-regulated community of marketers, designers, investors, and ordinary people who can enter the investment world with no prior knowledge and enjoy the benefits that were previously only available to a few.
The vision of Sator is to:
"make decentralized finance accessible to investors, traders, marketers, artists, developers and financial experts from all over the world, exploiting the power of artificial intelligence to open up new trading strategies and crypto investment opportunities without the need to confide in any specific person or institution." 
By leveraging proprietary Artificial Intelligence, and partnering with top-tier technology providers such as the Chainlink Labs and the Unification Foundation, Civilization eliminates the need to rely on "middlemen" such as investment bankers and will hand power back to investors, without the need for intermediaries. The result is an intuitive, reliable, and highly efficient system where personal access or name recognition offer no advantage to the investor – equal opportunities for everyone.
The initial trading strategy is an advanced AI-powered trading and staking platform for investing in Uniswap v3 liquidity pools, with the goal of daily compounding interest of 1% per day and above. CIV reduces the risks and costs from impermanent loss and market timing, by tapping into multiple positions across different pairs and other DEX platforms for hedging purposes, as well as saving gas fees from pooling positions across multiple investors. This is a starting point to build a growing community fund, and to sustain growth within a self-sufficient economic system. 
Fund governance decisions are handled through community voting, ensuring all members have an equal say in the direction of the project. Decentralized Autonomous Organization (DAO) technology automates voting and implementation of the community's will. The community acts as its own bank and will also fund community projects chosen by community-appointed leaders and DAO-voting for major strategic decisions.
How can a fully decentralized community be aligned to shared goals?
Making a decentralized community perform productive functions can sometimes be a challenge. To avoid degeneration into anarchy, all CIVians subscribe to basic shared values, which should be strictly enforced on a day-by-day basis: 
Anonymity –

but not lack of accountability as far as practically enforceable.

Respect –

any idea is welcome so long as it is expressed with mutual respect.

Focus –

with a specific job to get done, CIV must pursue it in the best possible way.
The Civilization white paper, self-branded a CivPaper, outlines the broader ethos of the CIVians:
100% community focus

. The CIV token is community-driven, with no direct personal lock-in or control by any individual. Initial liquidity has been burned so that no one entity has admin interest or special rights. Token supply cannot be minted or changed further. Decisions are made by the community governance DAO. There is no secret marketing budget to drive interest, unless community controlled.

Easy access for all

. CIVilization is at the service of as many people in the world as possible. There is zero minimum investment. The technical barrier to entry must be low – offering ease of use, a simple interface and intuitive rewards. Anybody must be able to explain CIV to anyone within 5 minutes. CIV will continue to constantly evolve and improve through community input.

Target: 500% ETH average return per year

. The CIV token enables access to trading of any active and liquid crypto token which has ETH-based staking and rewards. Any trading opportunity yielding high daily returns can be pursued, anywhere within the ETH eco-system, generating market-neutral, absolute total returns; for example, DEX Liquidity provides a brilliant initial opportunity area. There can be no guarantee of any specific % return every day but averaging out should target at least 5x return a year.

Automated Artificial Intelligence

. CIV uses smart contracts which implement trades completely autonomously, and no person or entity has special permissions to change its operation. The investment wallet must be impenetrable from the outside and untouchable from the inside, thus protecting against all risks currently facing most DeFi projects. The auditing and vetting of the code form an integral part of the CIVilization community and ensures long-term ecosystem success.

Price stability

. The CIV token may have initial price swings, but when it reaches a critical mass of community and an established track record of returns, there will be an intrinsic incentive for price stability. If the token value should halve, a 10% a week return would become 20%, attracting more capital, and automatically bring the price back up to its equilibrium.

Social mission

. The CIVilization ethos of making financial freedom available to everyone demands that part of the yield is given back for social benefit. A portion of the financial returns will be set aside for the benefit of those who are less fortunate. CIV will not engage in immoral, illegal or questionable practices such as front running, quite the contrary, CIVilization promotes sound investment practice for social benefit.

Open innovation

. CIVilization is based on new trading ideas which can be generated at any time, referred and vetted based on systematic performance analysis. Therefore, anyone can have their own projects implemented and attract capital to them, based on automated asset allocation. Lack of funds is not a barrier for brilliant technical people and traders to be able to benefit themselves and society.
Roadmap of growth
2021 saw the seemingly unstoppable price growth of Shiba Inu (SHIB), which revolutionized the concept of  the decentralized community, demonstrating how a solid core team and shared ideals can enable powerful results that would typically be associated with traditional centralized organizations.
Today, Civilization (CIV), after just a few weeks of life, promises to further build on this insight. It has attracted a core team of 11 active developers. Marketing investment has been driven by over $200,000 of community donations, leading to ever-growing awareness within the sometimes-secretive world of cryptocurrencies. 
The recent partnership with Shiba Inu (SHIB) and the Unification Foundation (XFUND) gave birth to the first Global DeFi alliance. The aim of this new partnership is that ultimately everybody should be able to gain a fair opportunity of financial freedom, independence and success, regardless of background, resources or personal network: an impact likely to be felt across broader society, not just finance communities. The co-founder and product lead for the Unification Foundation, Mazi Sadri comments:
"We are excited to partner with CIVilization and Shibaswap to transform DeFi staking and smart investments. The anticipated Unification/xFund's Oracle of Oracles (OoO) will help prevent price hacks and provide the best prices for the DIF Fund to maximize returns and net asset value for fund participants. We believe in the team's architecture and performance-driven principles, which are enshrined in auditable code. The community is effectively its own bank, funding projects chosen by community-appointed leaders and by DAO-voting for major strategic decisions. A major milestone towards DeFi becoming mainstream technology with global appeal and adoption".
Will 2022 be the year of Civilization?
The launch of this first automated investment fund may resonate throughout the broader investment world. Thereafter, the developers plan a v2 to introduce multi-strategy capability and expansion to off-chain investment ideas, followed by the launch of a governance/benefits rewards token which, unlike CIV, can be minted proportionally to time and value staked.
Civilization roadmap

The broader social and business impact of this project may very well be felt well beyond the cryptosphere one day! 
For more information, the co-founder Sator Settler can be contacted at [email protected] – visit https://civfund.com for more information.