Listen this article
download
PRESS RELEASE
Varese January 25th, 2022 – Andrea Crespi, a young artist under 30 from Varese, successfully closes the charity auction resulting from the collaboration between OTB Foundation and CharityStars.com, an innovative charity fundraising platform. In fact, the artist's NFT artwork Invisible Girl was sold, and the proceeds were donated, helping through the important social cause in support of Afghan refugees. 
The charity auction
OTB Foundation is, in fact, organizing a network of support and integration for people who have arrived in our country and keeping alive its commitment in Afghanistan. The winner of the auction received the original NFT work together with the fine art print signed and certified by Andrea Crespi.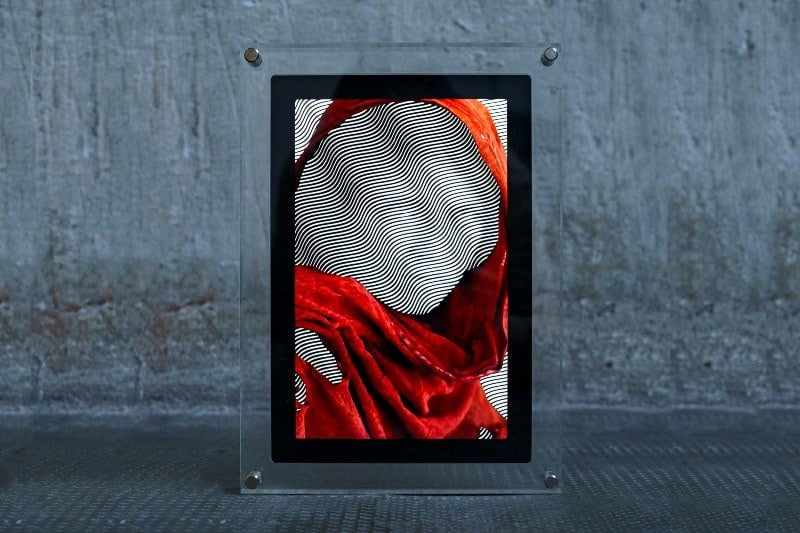 Invisible Girl, the NFT by Andrea Crespi 
The work is inspired by the famous photograph "Afghan Girl" taken by Steve McCurry in 1984 and published on the cover of National Geographic Magazine in the June 1985 issue. The image became a sort of symbol of the Afghan conflicts of the 1980s. During the Taliban regime, women in Afghanistan were not allowed to leave the house unless accompanied by a male guardian. The burqa was compulsory, and they could not wear make-up, nail polish, or jewelry. They could not work or attend school. They could not laugh. Contact with men was filtered in every way. Not only did their clothes cover every part of their bodies: their gaze could not meet that of a male, their hand could not shake that of the opposite sex. Invisible, imperceptible, erased to the point of limiting the noise produced while moving: the noise of heels was banned in July 1997. The limitations were accompanied by exemplary punishments in case of transgression, with amputations and death sentences carried out in public. So many in those years took their own lives. 
A small window on contemporary art to support the project of the OTB group's non-profit organization. Andrea Crespi wanted to donate the entire proceeds of the sale to the foundation, thus guaranteeing part of the funds necessary to continue the project in 2022. Once again, contemporary art has demonstrated its strength in supporting important social causes, and this time it is an artwork in NFT (Non-Fungible Token) created for the occasion by Andrea Crespi. His artwork develops in the continuous investigation of different media and themes, including optical illusion, social transformation, and the digital revolution. For the artist, the concept of art cannot have a univocal, closed, and immutable definition. In fact, according to Andrea Crespi, art can be manifested in many ways.
Unlike many other artists, for Andrea, there was no passage, no transition from traditional art to digital art because the artist is a child of this era. With Invisible Girl, Andrea Crespi confirms that digital art is his natural habitat, his point of departure and not of arrival, and demonstrates that the NFTs we talk so much about in this period, often accused of favoring illicit movements, can be used for just causes and do good.  
Andrea Crespi
Andrea Crespi was born on August 3rd, 1992, in Varese, Italy. Graduated in industrial product design at the European Institute of Design in Milan, he immediately embarked on a career focused on communication and visual arts. In parallel with his work as an art director in a creative agency in Lugano, Switzerland, he began his artistic career by creating his works as self-taught and sharing them on his social networks, especially on his Instagram profile. His perseverance, determination, and continuous experimentation helped to have the value of his work recognized internationally. So he decides during the first pandemic, in a historical moment full of uncertainty about the future, to leave his job indefinitely to follow his true nature, open his studio and invest all his time and energy in his artistic project. In addition to creating artworks of great visual impact where beauty and provocation are central themes, he is often called by important realities such as the Leopold Museum in Vienna, the historical archive of Milan, Bulgari to develop artistic projects, often related to the world of fashion and social issues. 
Work information 
Invisible Girl – Andrea Crespi 
NFT and Physical WORK (1/1) 
SIZE 420×594 mm / 16,5×23 inches 
Fine Art print on Manualis handmade in Fabriano (Italy) 
auction base: 1ethereum 
Sale at auction: 3900€