It's war between Russia and the social networks: following Facebook and Twitter, on the night of 14 March, Instagram was also blocked.
Russia blocks Instagram
The decision to block Instagram had been announced in recent days by the Kremlin and came after a veritable escalation of tensions between the social network, which belongs to Meta, and the Russian government. 
It all started with numerous requests from the Ukrainian government to stop social networks in Russia. Meta reacted by restricting the pages of the main Russian news networks, accused of spreading propaganda. 
Subsequently, contrary to Facebook's usual policies, Meta allowed hate speech against Russia to be published on Facebook and Instagram. 
This also allowed posts praising the death of President Putin or Belarusian leader Lukashenko to be tolerated. But Meta continued to ban posts against the Russian people in general. This allegedly led the Russian authorities to open an investigation. 
Nick Clegg, Meta's head of global affairs, replied that the measure would be temporary and that Meta would continue to monitor the situation. In any case, hate speech would not be tolerated, what changed was that content by Ukrainians expressing their resistance against the Russian invader would not be removed. 
This was enough for Russia to label Meta as extremist. The decision then came to block the social network, applying outright censorship.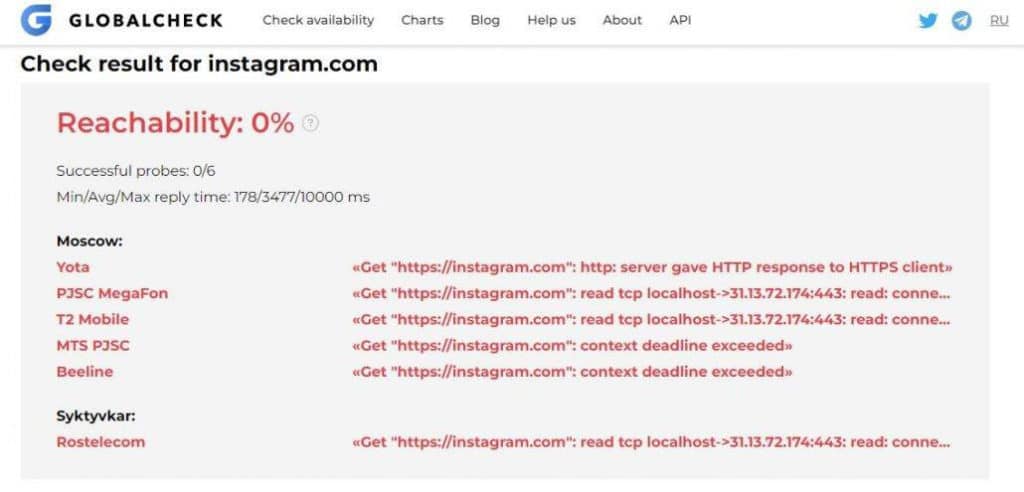 Instagram's reaction
Adam Mosseri, head of Instagram, reacted to the news that the platform had been blocked via Twitter: 
"On Monday, Instagram will be blocked in Russia. This decision will cut 80 million in Russia off from one another, and from the rest of the world as ~80% of people in Russia follow an Instagram account outside their country. This is wrong".
The decision also hit Russia's influencers hard. Olga Buzova, who has 23.3 million followers, cried in despair, saying that without Instagram it would be like losing her life. 
How to get around the ban
In reality, it is still possible to access Instagram. To get around the ban, it is sufficient to use a VPN connection, which obscures the user's origin and therefore allows access from Russia. According to data released by CNBC, the number of downloads of apps allowing VPN access has increased by 1,500%.  
The alternative given to Russian users is to use social networks, such as Vkontakte (founded by Telegram's Pavel Durov), which is allegedly controlled by pro-government companies. 
In short, the war also involves social networks, propaganda and the ability to organize.