SPONSORED POST*
RBIS, the token behind the ArbiSmart project,  is gaining traction as one of the most promising new altcoins of 2022. 
While the RBIS price is currently hovering around the $1 mark analysts are of the opinion that the up-and-comer is hugely undervalued and are projecting a rise to around $200 in the coming months.  
To understand why the forecast for ArbiSmart (RBIS) is quite so sunny,  let's take a look at both the story so far and where the token is headed next. 
The Project Is expanding fast
To date, ArbiSmart's automated trading system has been generating passive profits reaching up to 45% a year from crypto arbitrage. Now however, the project is massively expanding its offering with a variety of additional EU authorized products and services.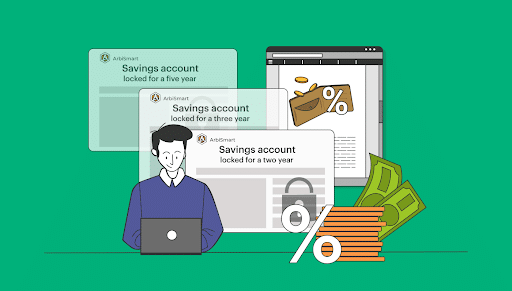 This quarter, in May, ArbiSmart is launching an interest-bearing wallet for crypto and FIAT  currencies, which offers 147% on RBIS accounts and 49% on accounts in all other supported currencies. Users will be able to pick from a variety of savings plans, earning higher interest for funds that are locked in a closed account for a longer timeframe. Interest is paid out daily and it can be accessed at any time, without touching the locked capital on which it is earned. 
Next month, ArbiSmart will also be introducing a mobile version that will enable users to buy, exchange and securely store funds.
Later in May, the project will be introducing a decentralized yield farming program, offered via Uniswap, and directly accessible through an interface in the ArbiSmart dashboard. In return for loaning their funds and providing liquidity, program participants will receive 0.3% of the fees from each trade and competitive annual yields of up to 190,000%. 
Q2 will also see the release of a collection of thousands of one-of-a-kind digital artworks as well as an NFT marketplace for the purchase and sale of Non-Fungible Tokens. 
While token supply is finite, forever capped at 450M RBIS, the imminent introduction of all these new RBIS utilities to the ArbiSmart ecosystem is designed to drive token demand. So as supply shrinks in line with a growth in demand, the RBIS price should rise significantly.
ArbiSmart is embracing new trends and tech
ArbiSmart's development team is shifting into an even higher gear in the latter half of 2022,  bringing together gamers, investors, digital creators, traders and collectors, with the launch of a stream of additional services that utilize the latest blockchain, VR and AR technologies. 
First up, ArbiSmart is introducing a play-to-earn metaverse, where participants can enter a rich digital world to play a variety of games as well as purchase, build on and sell virtual plots of land for real-world profit. 
Later in H2, ArbiSmart will be launching a complete crypto banking package, including digital currency debit cards, as well as crypto payment services and IBANs.   
In the second half of the year, ArbiSmart will also be releasing a cryptocurrency exchange as well as a funding launchpad for the hottest, most promising new coins to enter the market.
The token is gaining a foothold
Since its introduction on the exchanges in January, RBIS has hit the ground running, and it is already widely listed on multiple tier-1 exchanges like Uniswap, and SushiSwap, among many others. 
The listing process is ongoing, and every additional listing improves RBIS trading volume and liquidity, further establishing the long-term viability of the token. Each exchange also provides exposure to a wider audience and makes RBIS an increasingly attractive prospect to even more leading exchanges.  
Every upcoming product or service being added to the ArbiSmart hub will require use of RBIS. To earn interest on stored capital, wallet holders will need to hold a minimum amount of RBIS. So too, RBIS is the in-game currency in the metaverse and it is required to purchase NFTs in the marketplace, while participants in the yield farming program will stake funds in ETH/RBIS and USDT/RBIS liquidity pools. 
Also, ArbiSmart offers preferential terms for the use of one utility elsewhere in the hub, so for example, holding an ArbiSmart NFT will mean a higher yield farming APY, which boosts demand further and leads to higher liquidity. 
ArbiSmart is on the verge of major growth and analyst projections of a 20,000% rise this year seem more than likely. However the window in which to buy the token at its current basement price is rapidly closing with a diverse array of new products and services about to be launched next month. To get hold of RBIS, at under a dollar, buy now! 
*This article has been paid. The Cryptonomist didn't write the article nor has tested the platform.