SPONSORED POST*
Prices are depressed in the crypto market and have a long way to go before they return to their peaks, if at all. But crypto is not just a number and a ticker symbol on a trading platform. It is a marketplace of financial products that are constantly being worked on by tech developers. This means that regardless of market volatility, cryptocurrencies and digital coins are going to keep doing what they do best: innovation. 
And sometimes, a product arises that the world needs. Bitcoin was created to avoid the problem of double spending in traditional banks. When crypto became too volatile, stablecoins like Tether were useful. 
These new creations at the time enjoyed bull prices accordingly and each blue chip cryptocurrency had its fair share of time to shine on the market.
We're nearly into 2023 and cryptocurrencies still have a long way to go in terms of price appreciation. In any case, these three coins could provide returns in line with your expectations for the year. 
Algorand offers improvised proof of stake system
Like most cryptos, Algorand stumbled downward in double digits last year. There is something unique to be said for the token though. It operates on a model different from both proof-of-work and proof-of-stake. 
Proof-of-stake model selects validators based on their level of cryptocurrency holdings. Algorand's pure proof-of-stake system goes a step further and chooses its validators randomly. This creates greater security overall through just one added component. 
Algorand also improved its transaction speed from 1000 transactions per second to 6000 transactions per second, which is great efficiency-wise for its users.
The token has done nothing but go up this month. Over the first 15 days of January, Algorand's price appreciated by 33.33 percent from $0.18 to $0.24.
Cardano is on an innovation tear
This blue-chip crypto is not slacking in its pace of innovation. It was widely touted as the crypto with the highest development activity in 2022. 
Cardano has been actively involved in providing its technology to other industries. EV project eTukTuk was created using blockchain technology and Cardano was chosen as the platform to feature the product.
Cardano also launched the world's first smart contract written in Python's programming language. The blue-chip crypto will soon release its Djed stablecoin before the end of January and the new functions for its Plutus contracts are expected in February. 
The cryptocurrency is on a recovery path, rising from $0.25 to $0.35 over the first two weeks of January, an increase of 40%.
Big Eyes Coin raises over $18 million successfully 
New on the crypto scene, Big Eyes Coin is currently in its pre-sale and has raised $18.39 million so far. The cat-friendly crypto promises its holders a ton of cool benefits. Buyers of the token can purchase NFTs, access a sushi crew and become part of an eco-friendly initiative. 
Big Eyes Coin aims to donate 5% of its tokens to organizations dedicated to reviving the health of the oceans. 
There's currently a limited-time offer of 200% in bonus tokens, allowing investors to accelerate their returns on the coin.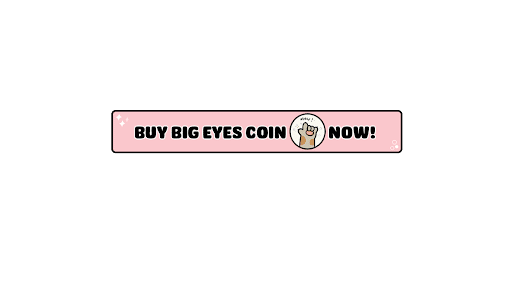 Make sure to join Big Eyes's social media handles below!
Presale: https://buy.bigeyes.space/
Website: https://bigeyes.space/
Telegram: https://t.me/BIGEYESOFFICIAL
Disclaimer: This article is not investment advice. It is an attempt to keep crypto-enthusiasts aware of recent developments. Anyone who chooses to invest in any crypto mentioned in any article does so at his own risk. 
*This article was paid for. Cryptonomist did not write the article or test the platform.