Axie Infinity (AXS), Celo (CELO) and Litecoin (LTC): how are their respective crypto assets performing? Are bullish or bearish phases expected? Below you will find an in-depth look at their analysis.
Focus on the crypto assets Axie Infinity (AXS), Celo (CELO) and Litecoin (LTC)
It is worth mentioning that Axie Infinity is a blockchain-based video game inspired by the dynamics of Pokémon or Tamagotchi. In fact, it allows players to collect, breed, trade and battle with each other token-based creatures known as Axies.
Celo, on the other hand, is a platform that serves as a global payment infrastructure for cryptocurrencies and targets mobile users. To that end, Celo's goal is for financial activity to be accessible to anyone globally by being able to send payments to and from any phone number in the world.
Lastly, Litecoin (LTC) is a peer-to-peer crypto and an open source software project released under an MIT/X11 license.
Will the price of the crypto Axie Infinity (AXS) rise again? It is not performing as well as CELO, but better than LTC
The price of AXS gained 15.34% in the previous weeks and attempted to regain the $10.00 threshold. However, the attempt was unsuccessful and the price of AXS saw profit taking from the 50-day EMA hurdle.
The price of Axie Infinity defends the $7.00 support and exhibits a decent rebound, which denotes that buyers are active at the lower levels. However, prices lack upward momentum and are expected to see range bound exchanges before deciding further direction.
The price of Axie Infinity was trading at $8.47 with an intraday increase of 1.44% and a volume to market capitalization ratio at 0.0658. The AXS/BTC pair is trading at $0.0003050 with an intraday decline of -0.33%, showing a minor divergence between the two pairs.
In mid-January, AXS witnessed a massive increase in buying volume and prices also regained positive momentum. Subsequently, prices rose about 80% in one week and broke through the $10.00 hurdle with strong momentum.
However, the rally stopped near $14.00 and formed a bearish shooting star candle pattern.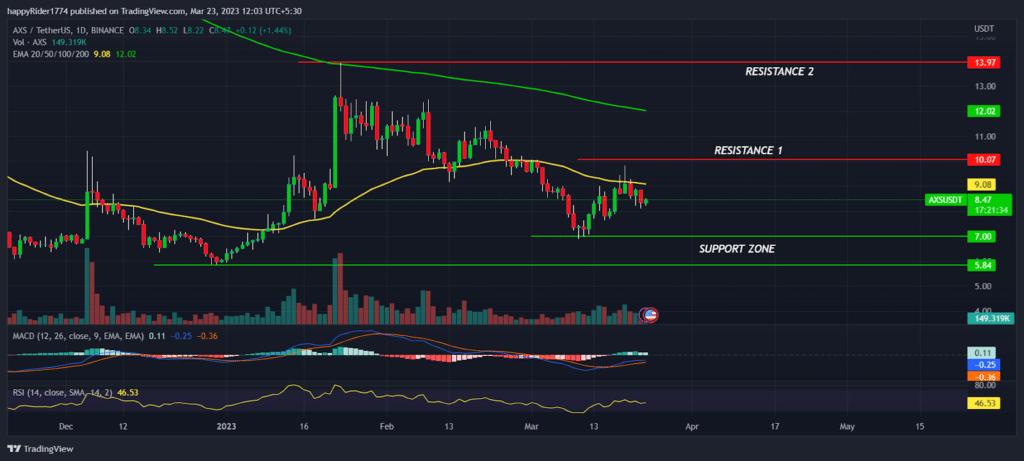 The price of Axie Infinity is currently trading below the 50-day and 200-day EMA, showing a downward trend on a positional basis.
However, if bullish people succeed in pushing the price of AXS above $10.00, we could expect further upward momentum, which could take Axie Infinity to previous highs.
On the other hand, if the AXS price falls below the $7.00 support, the bears could try to drag prices further toward the one-year low at $5.84. Technical indicators, such as the MACD, have generated a positive crossover indicating that the uptrend will continue for some time to come. In addition, the RSI denotes that prices are in neutral territory and expects consolidation.
Celo: what to expect for the future from the crypto?
Today's price of Celo is $0.66, with an increase recorded in the last 24 hours of 7%. However, it performed negatively from its peak in the last week. It has a circulating supply of 491,531,934 CELO and a maximum supply of 1,000,000,000 CELO coins.
Not even a month ago, the crypto's price was $0.76, ranked 99th among all crypto assets according to the most recent data collected. CELO has a market capitalization of $377,126,245 with a circulating supply of 487,448,202.
Specifically, on 13 February 2023, eighteen technical analysis indicators recorded bullish signals, but also ten bearish signals. The Fear & Greed index shows 50 (neutral) on the technical indicators.
Not only that, a total of 18/30 (60%) green days have been recorded for CELO in the past 30 days, with a price volatility of 7.57%. Hence, an optimistic forecast might suggest that this is a good time to buy CELO, but only with some conditions, listed below, from investors.
In any case, the performance of the cryptocurrency sector strongly influences the future of CELO. Investment in this crypto requires the right strategy, and asymmetric risk profiles are not suitable for investing in CELO.
It remains an excellent investment if you are financially secure and have a high risk tolerance. In fact, in addition to its speculative nature, CELO is also a sector that offers exposure to global technology.
Once again, CELO is backed by stablecoins, and since CELO was part of the Google Launchpad event, it quickly gained immense popularity.
As part of CELO's mission, the crypto will provide financial services such as peer-to-peer transfers and allow users to pay on merchant sites. CELO reached the top 50 by market capitalization volume in less than four months. Founded by large enterprises and companies, CELO will bring more significant upgrades in the future.
Focus regarding the price of Litecoin (LTC)
In recent sessions within the crypto market, there have mostly been positive moves for Bitcoin, Ethereum, Ripple, and Litecoin (LTC) against the US dollar.
Earlier, LTC formed a base above the $85 level and thus began a new rise.
In addition, there was a clear movement above the resistance levels of $88 and $90. During the rise, there was a break above Fib's 50% retracement level of the downward movement from the swing high of $96.11 to the low of $85.66.
The price of LTC is now trading above $88 and the 55 (4-hour) simple moving average. In addition, on the upside, the price is facing resistance near the $92 level. However, there is also a key bearish trend line forming with resistance at $92 on the four-hour chart of the LTC/USD pair.
We see that the trendline is close to the Fib retracement level of 61.8% of the downward movement of the swing high of $96.11 to the low of $85.66. In any case, a move above the $92 level could push the price towards the $95 level.
To conclude, it can be said that the next major resistance lies near the $100 level. Consequently, further gains could push the price toward the $112 level.