Elon Musk is back to talking about Twitter. This time, claiming that he had tried to turn part of the social's headquarters into a homeless shelter, but admitting that he was turned down.
The news is reported by Watcher.Guru's official Twitter channel, which reads:
JUST IN: Elon Musk says he tried turning part of Twitter HQ into a homeless shelter but the landlord declined.

— Watcher.Guru (@WatcherGuru) April 12, 2023
In any case, the news did not end there, as the Tesla genius, during a live interview with the BBC, also discussed Twitter's new "CEO." Below are the details.
Elon Musk: "Twitter will become profitable as early as this quarter"
In recent days, Elon Musk said that most of the advertisers who abandoned Twitter after its $44 billion acquisition have returned, suggesting that the struggling platform is getting back on its feet.
Musk, speaking in a Twitter Spaces interview with the BBC, which took place in front of millions of listeners, reiterated that Twitter is operating at a break-even point and could turn cash-flow positive as early as this quarter.
More than 3 million simultaneous users tuned in to the nearly two-hour conversation, which became hostile at times when the billionaire turned the tables on his interviewer and questioned the BBC's track record on everything from Covid misinformation to hate speech.
Twitter reported positive cash flow in July, its last earnings disclosure before the height of the tumultuous Musk takeover saga. The company has been saddled with billions of dollars in debt since the deal.
Therefore, returning it to profitability could somewhat validate the drastic cuts in staff and facilities that Musk has made, although he has also been accused of failing to pay various companies and expenses: from office rents to severance pay for former employees to legal fees for former executives.
However, most advertisers have now returned to the platform, Musk said, following an exodus triggered by mass layoffs and technical problems that raised concerns about the potential proliferation of hate speech, fake news and other questionable content.
Twitter's new "CEO": Floki Inu
Elon Musk also returned to comment on Floki Inu, the memecoin based on the Shiba Inu dog breed. Specifically, he stated that his dog Floki has taken his place as Twitter's new "CEO."
Moreover, Musk added that people like the new CEO of the social network:
A couple of months ago, Elon Musk announced his new replacement by tweeting a picture of a dog named Floki. Not only that, he also stated that the new executive is great and said the dog is "much better" than him.
The new CEO of Twitter is amazing pic.twitter.com/yBqWFUDIQH

— Elon Musk (@elonmusk) February 15, 2023
Indeed, in other subsequent tweets, Musk first mentioned that the new CEO is "great with numbers," and then also appreciated his "style." As was to be expected, soon after the mention of Floki during the interview, the price of the memecoin changed course.
Indeed, the downtrend changed to an uptrend and within minutes it was up about 3% on the short-term chart. Currently, FLOKI is trading around $0.0000337.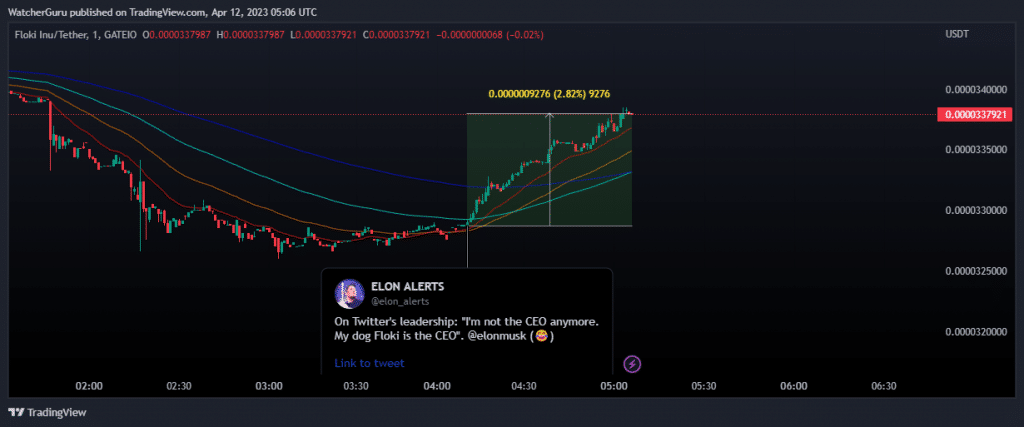 Elon Musk talks about the future of Twitter and beyond
As for the future of Twitter, Elon Musk said he does not see any social network surviving without paid verification.
Specifically, the Tesla mastermind has faced a number of criticisms regarding the fact that the social network charges $8 to get the famous blue checkmark.
Which once conferred legitimacy on organizations and public figures. Hence, according to Musk, the payment barrier is the only viable way to prevent disinformation robots from flooding an online platform.
Finally, in a post-interview Q&A session with listeners of the Twitter Space, Musk also addressed Twitter's merger with a newly formed shell company called X Corp.
Apparently, the billionaire's intentions are still to build X, the everything app similar to Tencent Holdings Ltd's WeChat.