SPONSORED POST*
Whenever you store funds in a crypto wallet there are a number of factors you need to take into consideration, like security and profitability. However, there is one newly launched offering that is setting the bar higher than ever before, by guaranteeing a stable profit on crypto, better than any legitimate competitor, that is paid out on a daily basis in euros.
A Different Kind of Savings Plan
ArbiSmart is offering a guarantee of secure profits, regardless of the direction of the crypto market, with its yield-generating EU authorized wallet.
Supporting 29 different currencies the wallet offers multiple savings plan options. FIAT and cryptocurrencies can be held in an interest-free, available balance from which funds can be withdrawn at any time. Alternatively, funds can be held in an interest-generating savings plan, were funds are locked for periods of anywhere from 1 month to 60 months, with a higher payout the longer the contract.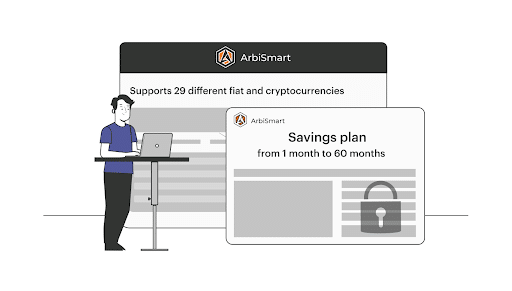 With a standard ArbiSmart wallet, balances in all supported currencies reach up to 49% a year, except for balances in the native token RBIS, which offers triple that rate. The precise percentage depends on the currency, deposit sum, and length of the plan, as well as the wallet holder's account level, which is based on how much RBIS they own. The interest is paid in the same currency as the savings plan, unless the wallet holder specifically choses to receive the interest in RBIS, as by doing so they can increase their daily profits.
Then of course, there are the plans that provide a fixed rate, paid out daily in euros, with the same return, whatever your account level.
Earn a Profit on Your Bitcoin in Euro
In addition to the wide variety of available and locked, FIAT and crypto savings plans that ArbiSmart already offers, its latest series of plans is changing the game for wallet holders. The three new 24-month savings plans, for balances in RBIS and a range of other popular cryptocurrencies all pay out profits in euros and rates are not dependent on your account level. These exclusive plans offer crypto bear resilience, meaning that whatever is happening on the crypto markets you will earn a guaranteed, preset passive profit. Not only that, but the profits will be in one of the world's most popular traditional currencies.
Open a savings balance in BTC, ETH, USDT, USDC, XRP or SHIB, with no minimum deposit amount. Regardless of your account level, you will earn 32% a year on available balances where the daily profits are always accessible for withdrawal. Alternatively, you will earn 64% a year if the balance is locked and the profits are inaccessible until the contract ends.

Another option is to open a plan in RBIS, with a minimum deposit of 100,000 RBIS and receive 100% a year. The profits are the same at all account levels and available for withdrawal in EUR as soon as the contract ends. With this savings plan you are earning a huge, guaranteed profit on the native token without having to sell your RBIS. Also, with the increased token demand generated by the new plans, the token value should rise even higher, generating generous capital gains.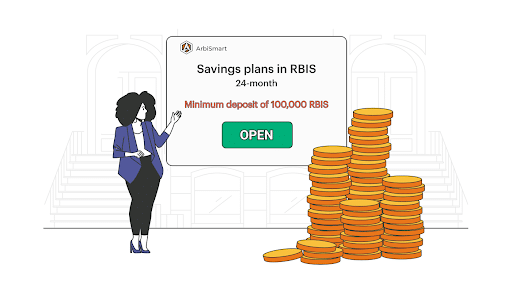 Get Started Quickly and Easily
The process of opening a wallet savings plan is exceptionally straightforward and can be completed in 3 simple steps.
Register and deposit FIAT or cryptocurrency.
Choose a savings plan, picking the currency, balance size and contract length.
To raise your account level and therefore your interest rate, on standard savings plans, you can tap on Buy RBIS in the dashboard, and purchase the native token, in a couple of clicks, via bank or wallet transfer.
To make a profit as high as 100% in just 24 months, open a savings plan today! 
*This article was paid for. The Cryptonomist did not write the article or test the platform.