It is a divorce between University College London and IOTA. Leggi qui l'articolo in Italiano.
University College London (UCL) says enough about its collaboration with the IOTA Foundation lasting about a year.
Between the two bodies, the divisions finally got the better of them.
So much so that Patrick McCorry, a security researcher at UCL, shared an official message from the University College on Twitter stating that the collaboration with the IOTA Foundation was interrupted.
The official note exlplains:
"UCL Center for Blockchain Technologies is no longer associated with the IOTA Foundation, but we reaffirm our support for open source security research as a prerequisite for understanding any blockchain technology. It is not appropriate for security researchers to receive threats of legal action for having disclosed their results ".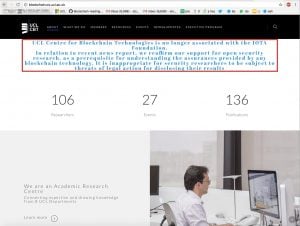 The question, in fact, is linked to a report published in February by Ethan Heilman of Boston University together with a team of researchers from the Digital Currency Initiative (DCI), entitled "IOTA Vulnerability Report: Cryptanalysis of the Curl Hash Function" which highlights a defect in IOTA's hash curl function.
According to the report, in fact, the cryptography used by IOTA exposes the network to a vulnerability linked to the possibility of creating forged signatures, usable for example to steal tokens.
Shortly after the publication of the report, IOTA co-founder Sergey Ivancheglo publicly revealed that a team of lawyers had been tasked with investigating to challenge the researchers and their findings.
But he also specified with a subsequent post on his blog that "the IOTA Foundation is not involved at all [in this story], but it is a personal affair between Heilman and me".
The UCL has interpreted this story as an action not tolerable towards researchers.
The bad news did not affect the value of MIOTA, the IOTA token, which remained relatively stable in recent days. But it is not the first case that involves the governance of the IOTA project, in particular, the related Foundation.
Recall that IOTA does not use blockchain, but a system based on DAG called "Tangle" that allows immediate and no-cost transactions.
Therefore its development is still ongoing, but it can not be based on the safety shown in the blockchain years.