Crypto trends: 
The recent descents do not record movements of strong panic illustrating a situation where the bull appears resigned.
Crypto trends: prices are going down: Leggi qui l'articolo in Italiano
Total capitalisation falls below $275 billion, the lowest level since last April.
Also this morning the red mark prevails for the fourth consecutive day. Among the top 20, some positives like Cardano (ADA) with +3%, Monero (XMR) and OmiseGo (OMG), both to +2%.
The general sentiment remains very low and the drops of yesterday afternoon make the volumes explode again, marking a clear prevalence of sales.
The resignation of the bulls begins to worry. In a little more than a month, the decisive rises of April were cancelled when, in a little less than three weeks, the bearish clouds that had been raging since the beginning of the year seemed to be beginning to diminish.
We need pride and some decisive move in purchases, otherwise, we risk revisiting levels of last autumn.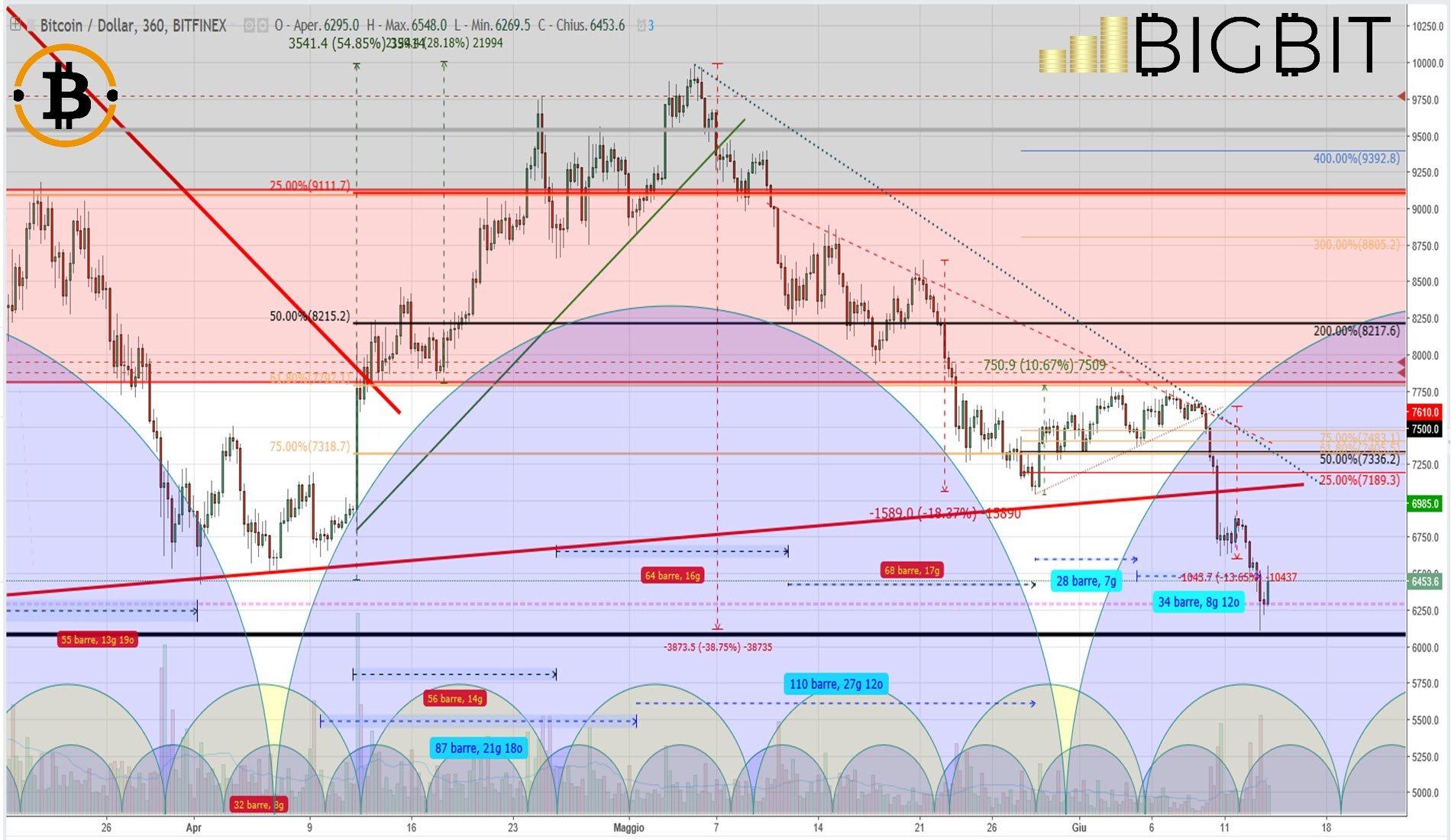 Bitcoin (BTC)
Struggling to hold the support of the 6400 dollars. Yesterday afternoon's break in less than two hours made prices plummet to test the next support of 6200. Bitcoin finds himself having to deal with the decisive levels that in February and April had awakened the bull. A reaction is needed this time too, otherwise, there is the 5500 dollar area, levels abandoned in mid-November.
Operating levels
UPWARD TREND: The conditions necessary to witness the return of the bull are still lacking, which could awaken an initial reaction from current levels.
DOWNWARD TREND: The failure to hold the 6000 dollars could see prices drop first in the 5800 area, low of February, then at 5500, low of mid-November.
Ethereum (ETH)
The violation of the support at $480 paves the way for a new long downtrend. A reaction is attempted in the 450 area, just above the monthly support at 420, trying to cling to the levels of yesterday morning. The technical and psychological level of the $500 remains a necessary basis to recover in order to awaken a reaction from the bull and attract some purchase now absent from the end of May.
Operating levels
UPWARD TREND: New purchases are waiting for the 500 dollars to be recovered. A move necessary for hope to return.
DOWNWARD TREND: The pride of a frightened bull indicates a support base of $450. This level and the 420 area are a floor that will have to hold in the coming days, otherwise, we might review the lows of early April.