For the top 100 coins in the ranking, the minority is in the red, of which only a handful marks falls above 2%.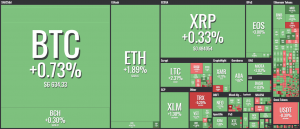 Among all the others above parity emerge Maker (MKR) and Ontology (ONT) with double-digit rises from yesterday morning's levels. Out of the biggest tokens, it is EOS to have climbed the top step of the podium with a rise of +3%, followed by Cardano (ADA) and Iota with increases just under three points.
Total capitalisation remains glued to 220 billion dollars, as does bitcoin's market share at 52%. Ripple fell below 9%, while Ethereum tried to stabilize over 10.5% after sinking below double digits in the last week of September.
The high volatility was the main clue that until a few weeks ago was motivating the caution of approaching cryptocurrencies by the less tech-savvy, a reason also adopted by the US SEC to reject some ETF proposals presented in recent months.
The plunging descent of the volatility of the last weeks has left many in the crypto sphere surprised, especially the operators arrived last year, accustomed to shocking daily raids. This is an unusual phenomenon that starts to make us think that we have reached a turning point and maturation for the entire sector.
Previously, such a condition had been suddenly ripped apart by a return of volatility and rising prices. Yesterday's rising volumes, the highest peak of the last two weeks, were accompanied by a timid rise in prices, a positive sign that continues to increase the expectation of a break, up or down, of important technical levels.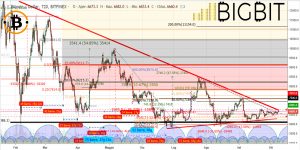 Bitcoin (BTC)
BTC's prices come into contact with the bearish trendline that unites the highs (decreasing) since the beginning of the year. This important test is arrived at with low volumes, which are growing in the last 24 hours. To provide an important bullish signal, more important purchases are needed. Waiting to see an important movement could be almost over. The confirmation will have to come with the breakage of the 6700-6750 dollars. Otherwise, the signal could feed the bears' return.
Ethereum (ETH)
The return to the $230 area is a positive signal for the short term. For a long-term breath, a return to the $250 area is necessary. Only the recovery of this level, which remained the basis of support until the beginning of September, can give a more important bullish signal. Bears could return to be active under 190 dollars.