After having recovered from the shocking price spread of October, the different bitcoin prices on the various exchanges return to widen once again the value of bitcoin (BTC).
This morning the price on Bitfinex that, despite the fierce competition manages to remain the first exchange for daily trading in bitcoin, indicates a difference of about 100 dollars. BTC is trading at $6450 on Bitfinex, while on other large exchanges (such as Binance, CoinsBank, Liquid and OKEx) it is between $6320 and $6380.
The flat calm that for months has been caging the prices of the main cryptocurrency in a channel between 6000 and 6800 dollars, marks one of the most boring periods since the first crypto exchange allowed buying and selling outside traditional digital wallets.
Statistically these periods of low volatility, contrary to what happens in the traditional stock markets, coincide with phases of accumulation that precede important increases.
It might be for this reason that in the last days the sentiment of the operators has returned to rise reaching levels similar to the end of July, when the value of the bitcoin exceeded the 8200 dollars.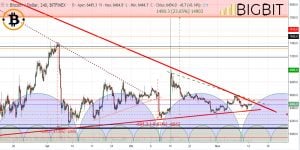 Bitcoin Prices (BTC)
Taking Bitfinex's graph and quotations as a reference, this morning bitcoin is experiencing a slight downturn just below $6450.
It will be important to monitor any price differences – the spread on bitcoin prices – between the main exchanges and a possible test of 6200 dollars, one of the crucial levels in the medium to long-term.
Only returning above 6750 will give some space to breathe a sigh of relief.
Ethereum Prices (ETH)
Since last Friday, prices have been stuck in the $210 area. The trading volumes are quite good, even if lower than the average of the last month.
Technically, the previous indications remain valid: downwards it is important to monitor the 200-190 area, while upwards it is necessary to recover over 220-230 dollars.