The Waves token rally continues even today, rising more than 40% from yesterday afternoon levels, according to data reported by Coinmarketcap. In less than a week the token has more than tripled its value from $1.5 to almost $5: a climb that exceeds 400% if we consider the annual lows of $1 recorded on November 25th.
In August Waves was named among the best ICOs by ICOBench, thanks to the design of a platform that allows exchanging custom tokens.
Despite the staggering numbers, the Waves token is in third place on today's podium on Coinmarketcap. It has been outperformed by MonaCoin (MONA), which rose more than 60%, and Stratis (STRAT), marking a 52% rise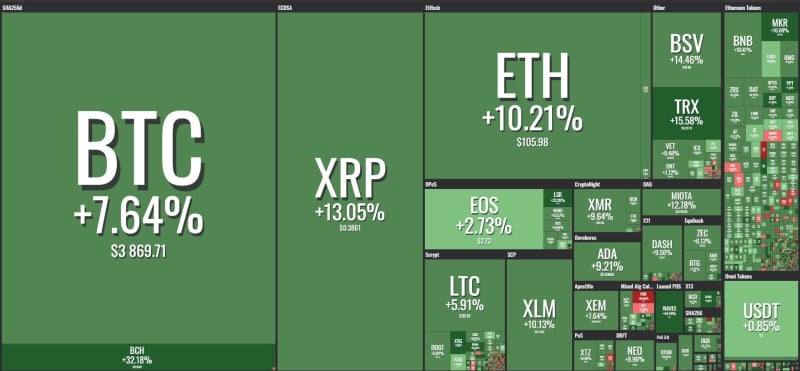 It's from last Saturday's lows that prices have been rising, scoring a rebound that momentarily removes the fears of updating the new annual lows.
Looking at the list of the top 100 cryptocurrencies with the highest capitalisation, excluding stablecoins, only one red sign emerges: it is TenX (PAY), which, with just over 50 million dollars occupies the 72nd position in the ranking, marking a slight decline of 2%.
TenX is a still little-known digital token, designed to facilitate the use of digital currencies using the proprietary debit card with low fees and receiving a refund of expenses made at all businesses that accept payments by credit cards.
The token, launched in June 2017, has caused a stir in the community for raising 200,000 ETH in less than 10 minutes, for a value of over $67 million dollars.
The total capitalisation recovers more than $20 billion in less than 48 hours, reaching the $125 billion mark. Bitcoin's dominance lost about 1%, falling below 53.5%, highlighting the excellent performance of the other altcoins.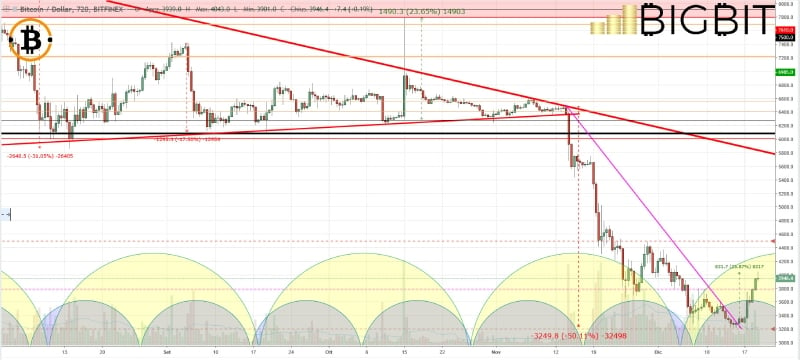 Bitcoin (BTC)
Yesterday's short price break confirms that it was a short consolidation before the lengthening that this afternoon pushed the prices over 4000 dollars, a technical and psychological level abandoned at the beginning of December.
The current rise, which began during the night, is accompanied by good trading volumes above the average rate of the last week.
In the next few days, technical confirmations over 3750 dollars are necessary, a level that has now become the basis of support. The next bullish target is in the 4400 dollars area.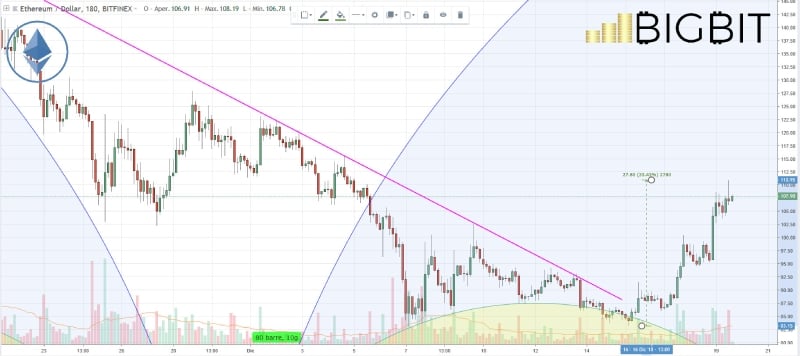 Ethereum (ETH)
In the night, volumes accompanied the surge of over 100 dollars pushing prices in the 110 dollars area. The movement catalysed once again the attention of the $125, an important level in the medium term.
Only the return below $95 would cancel the formation of the bullish structure that has already begun.