Like every first of the month, yesterday, May 1st, Ripple carried out a transaction of a billion XRP tokens (at a current value of about $308 million).
This time the transaction memo reads: "Go! Ripple! and Korean Community! (by XRP factory)".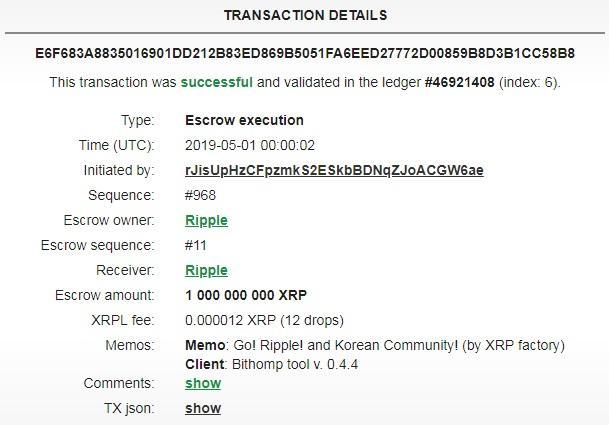 In a recent Ripple report for the first quarter of the year, Ripple explains that it sold $169 million in XRP. Of these, $61 million was sold directly to the institutions, while the rest in scheduled transactions: during these three months, the team executed transactions of about 3 billion XRP tokens, of which 2.30 billion returned to the security wallets, so in total, about 700 million tokens were sold in 3 months.


The centralisation of Ripple (and the XRP token)
This token release will be used to develop the Ripple ecosystem and obviously to integrate the token into the various exchanges on which the cryptocurrency is listed, thus allowing various types of operations, from direct user sales to OTC (Over-the-Counter) operations for those who want large quantities of XRP tokens.
Ripple can certainly be defined as a centralised currency both because the team has more than 50 billion tokens and because the Ripple company manages the direct flow of tokens.
Ripple has recently planned to expand the RippleNet system, which currently wants to focus on emerging countries such as Mexico and the Philippines. In addition, negotiations are underway to further expand the network, which currently has over 200 customers worldwide, spread over a very wide area from the Middle East to the Americas.