Bitmain, the Chinese giant manufacturer of ASICs for mining, revealed in an official announcement that their hashrate on the Bitcoin network has dropped by 88% compared to a month ago. These data are disclosed on a monthly basis by the company in accordance with its policies.
Bitmain has traditionally been a big player in the mining industry and it is surprising that now they have decided to drastically reduce their influence. It is certainly no secret that the cryptocurrency market in 2018 has suffered major falls, drastically reducing mining profitability. The bear trend of the crypto market has caused huge losses for the company. Now, however, bitcoin has returned to almost $6,000 and the market appears to be recovering strongly.
Even Nvidia, a leading company in the video card sector, has seen its revenues fall significantly, to the point of having considered a complete exit from the mining sector.
Bitmain: only 237.29 PH/s for Bitcoin
Bitmain's hashrate for the SHA256 algorithm is only 237.29 PH/s compared to the 2072 PH/s of last month (-88%) and 1700 PH/s in March. Bitmain's dominance has collapsed: it holds only 0.4% of the total hashrate of the Bitcoin network. In the past, the company had as much as 4% of the computational power: more than 10 times higher than today.
It is interesting to note that the drop in hashrate provided by the Chinese company does not correspond to a drop in the Bitcoin hashrate. The network has just reached 58,000 PH/s, a value which was never reached in the last 6 months, according to data from blockchain.info.
Profits from fees are also growing: of the $291 million earned by miners in April, as many as $14 million comes from fees paid for the confirmation of transactions.
Bitmain Antminer T17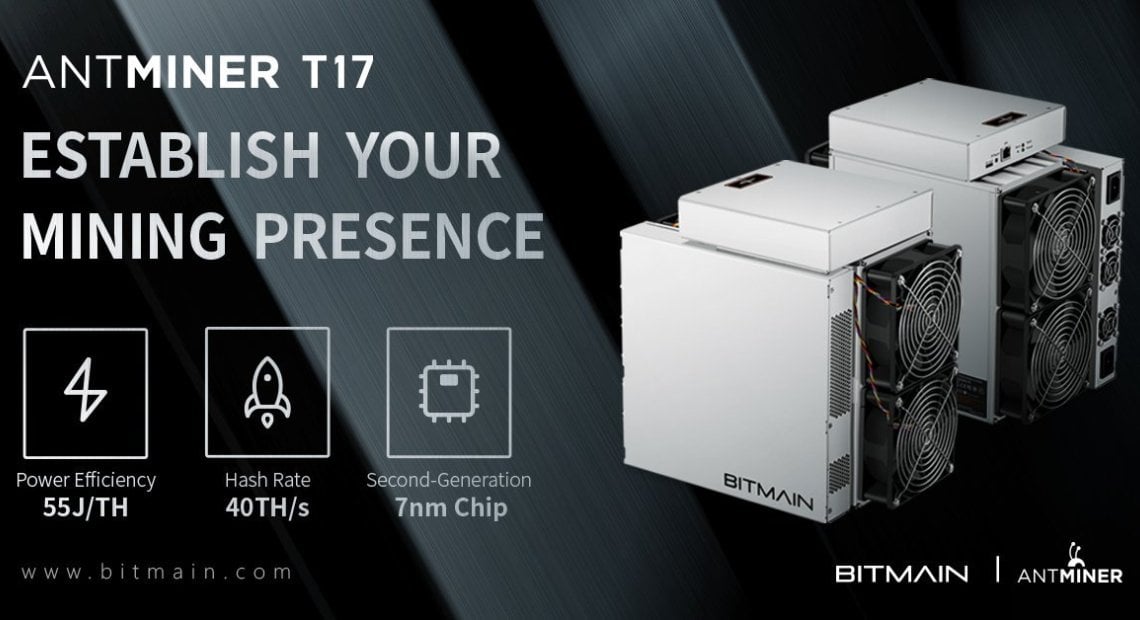 The company's commitment to the production of new ASICs is not questionable.
At the end of April, Bitmain officially announced a new ASIC for Bitcoin mining. It's the Bitmain Antminer T17. The ASIC is equipped with the new second generation 7 nanometer BM1397 chips, announced last February. It boasts performance and efficiency similar to the recent Antminer S17 and S17 PRO.
The T17, successor of the "old" T15, is able to reach a maximum hashrate close to 40 TH/s on the SHA256 hashing algorithm, with a maximum power consumption of about 2200 Watt/hour. This translates into an efficiency of nearly 55 watts per TH. We are therefore far from the 40 Watt TH of the Antminer S17 Pro flagship store, which can reach 53 TH/s.
The device is on sale at a price of $1270, well below the S17 and S17 Pro, sold for over $2000. On the subject of availability, the first batch will be sent between May 5th and 20th. For more details on this, please refer to the official website of the company.