CNBC confirms the news that Coinbase, one of the largest exchanges in the world in terms of market volumes, has decided to expand its Coinbase Card service to the rest of Europe. Italy, Germany and Spain are among the countries that will take advantage of this possibility, the only requirement is to link the Coinbase account.
Debit cards in the cryptocurrency sector have been growing steadily for years. There are many types and different services offered but until a few months ago, an exchange of this size had never ventured into creating one.
Coinbase Card was initially launched only in the United Kingdom with the promise that it would spread to the rest of Europe. The CEO of Coinbase UK Zeeshan Feroz was interviewed by the CNBC and explained that the goal of the Coinbase Card is to enable payments through the use of cryptocurrencies as if it were cash.
The CNBC report also states that from today the Coinbase Card will be available in:
Spain

Germany

France

Italy

Ireland

Netherlands
Feroz said that this new service offered by Coinbase has literally gone off the rails since it was launched in April. He also said that the company immediately processed requests for the first 1000 cards it offered free of charge to users.
How to get the Coinbase Card?
The debit card can be ordered through the mobile app, which is synchronised directly with the Coinbase account. It can also be used as a contactless card to withdraw from ATMs.
The official website provides links to the iOS and Android apps.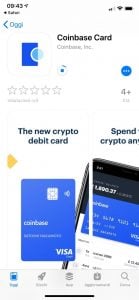 We have just verified that the app is actually present in the above-mentioned European stores:
Once downloaded, the application will allow users to order the card.
At first, the user is prompted to set a phone number to which a 6-digit code will be sent to confirm the device:
It is now possible to select one of the countries from the new list:
It is necessary to connect the application to your Coinbase Account in order to receive the card at the address chosen during configuration. Coinbase warns the account will be charged 4.95 euros using BTC, ETH, LTC or BCH, depending on availability.
After ordering the card, the user enters the waitlist:
Here's what the received email shows:

"Congrats, you're on the Coinbase Card waitlist! As soon as your card is ready to use, we'll be in touch".