The day began with the right pace and ended with a euphoric explosion that caused over 90% of the first 100 cryptocurrency prices to skyrocket, triggering a rally. 
The strong leap of Bitcoin Satoshi Vision stands above all, with an increase of 90% that hadn't been recorded among the highest capitalized altcoins for several years. From the beginning of the year, BSV climbs 330%.
Bitcoin Satoshi Vision (BSV) quadruples its value, marking its all-time high since the fork that created this crypto in mid-November 2018, a record that touched $400 by a few decimal places. In addition, with today's movement, BSV climbs to 5th place in the ranking.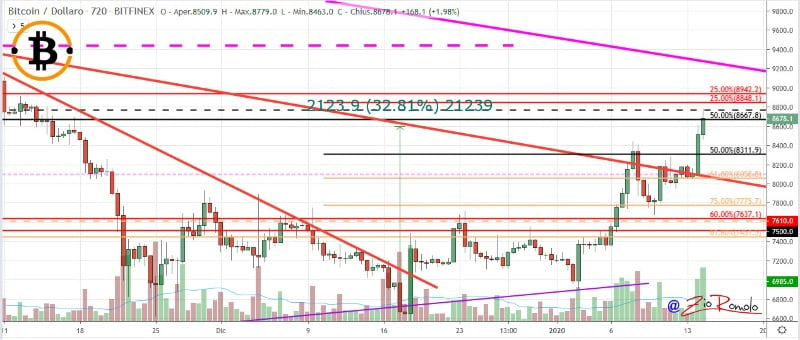 Among the big ones, there are several double-digit performances. Worthy of mention is EOS, which with a 20% jump brings the prices back to 4 dollars, levels that it had abandoned in mid-November. Bitcoin confirms the break that occurred at the turn of the night and last night, bringing prices to a step from $8,800, levels that BTC recorded last time in mid-November.
Ethereum is also doing very well, which with the movement of these hours rises by 14% and brings prices back to break the resistance wall of $160-165, causing volumes to explode, as a result of the bearish coverings with a jump up to $170, which ETH has not recorded since mid-November
The strong movement makes the market cap rise to 240 billion dollars. It is worth remembering that by mid-December it had reached the low of the last few months at 180 billion dollars.