Two of the most talked-about cryptocurrencies of the moment, particularly in terms of their price performance, are certainly Litecoin (LTC) and Ripple (XRP).
Everyone is in fact wondering why they are rising and what are the price predictions for the two assets in the short and medium-term.
XRP and Litecoin, prices climbing and falling
According to one particularly bullish trader, Ripple's cryptocurrency, XRP, could reach record highs as performance looks similar to 2017.
"As you can see, in 2015 XRP had an extended bear market that was strikingly similar to the one we've been in since 2018. The current market formed a similar base (green rectangles) as well as falling overhead resistance (blue trendlines,) and when XRP broke out above that falling blue trendline in 2017, that was the signal that the new bull market had begun. Looking at today's price action, we can see that the similarity is undeniable. Price has exploded above the falling blue trendline, just as it did in 2017, which shows that there is an extremely high probability that we are just entering a massive new bull market," explained the trader.
Litecoin in a downtrend?
As far as the LTC price is concerned, however, traders do not seem so optimistic since, even though the volumes currently being bought are high, the price could soon fall.
"Price expected to see a slight downtrend as the price is riding the upper band with Bollinger band moving upward and upper band resistance", explained the analyst on Tradingview.
Cardano: What are the levels to keep an eye on?
Another crypto in the eye of the storm these days, up almost 5% in the last 24 hours, is Cardano, or rather ADA.
But it's not all gold that glitters and in fact a trader at Tradingview says he's not very optimistic.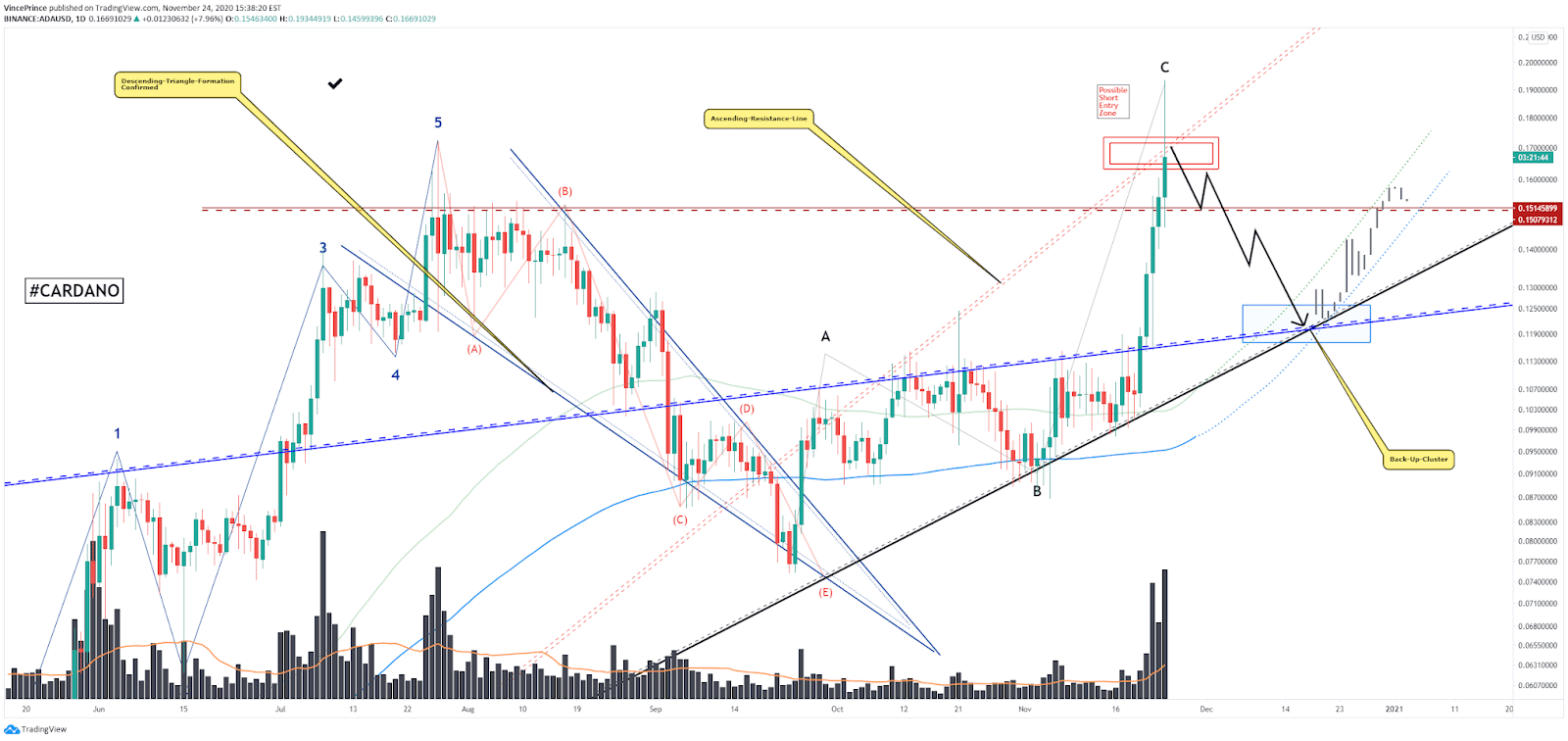 Cardano is in an upward line of resistance, which brings it closer to a possible all-time high, after the so-called reverse "head-and-shoulder" formation has been completed:
"Cardano is in a situation where it shows up with important bearish signs likely to show the expected pullbacks here, when these establish it will be the point where Cardano needs to show how it manages a stabilization within the back-up-cluster before moving on, in this case it is from high importance that Cardano does not fall below the cluster again because this can possibly invalidate bullishness ahead. Next times§ will show how Cardano moves on with the suggested approach and it will be an interesting journey as Cardano is one of the more volatile pairs and good therefore for trading considerations".