While Bitcoin's technical structure remains weak, in contrast to the one of Ethereum, the up and down continues: today, in contrast to yesterday, there is a group climb for the whole sector. Over 95% of cryptocurrencies are in positive territory. 
There are many double-digit rises. The highest jump is that of Dogecoin (DOGE) which flies over 80%, with quotations rising over $0.015, the highest level in the last 3 years (January 2018).
This is thanks to a tweet from the now-famous SubReddit group Wallstreet Bets, whose founder this morning mentioned the Dogecoin token and asked if it had ever risen to €1. This created a meme and attracted the attention of traders that led to GameStop's rally in recent days. Through this tweet, Dogecoin's price is rising fast.  
Other gains of the day among the big names included Polkadot (DOT) which rose double digits to above $17. Chainlink (LINK) followed, returning to the all-time high of $25 recorded at the beginning of the week. 
Volumes also jumped up, returning to trade in excess of $415 billion. Bitcoin's dominance fell by more than 1% to 62.5%. Ethereum remains above 16%, while Polkadot, the third-largest by capitalization, consolidates its market share above 1.6%.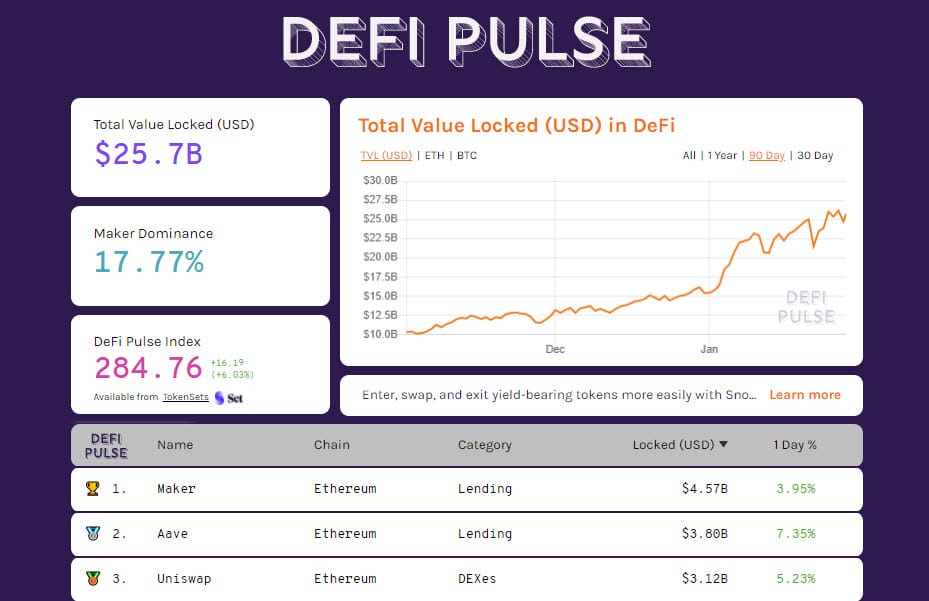 DeFi's TVL remains near all-time highs at just under $26 billion. Tokenized bitcoin continue to grow, today above 43,500 units.
Bitcoin (BTC) 
Bitcoin's technical structure continues to remain weak. The price has been fluctuating around the $32,000 mark for a week now. The technical structure therefore remains unchanged with a side-channel becoming increasingly important. 
If it breaks upwards above $34,000 or downwards below $29,000, it will most likely start to mark a more precise directionality.
Ethereum (ETH): a strong technical structure 
In contrast to Bitcoin, Ethereum continues to show signs of strength, with prices not suffering from the weak phase of recent days. In these hours, Ethereum prices are managing to stay latched on to $1,350, confirming a bullish trend even in the short term. 
Should it maintain this technical structure, in the event of a break of $1,480, the price of ETH is destined to rise further. Conversely, the first sign of weakness would only occur with prices below $1,100.