Listen this article
download
After being in the shadow of Bitcoin for the past two months, Ethereum is back in the spotlight with a run of more than 30% in the past four days and prices touching $1,700. 
The size of the rise measured by price is equivalent to an increase of around $400 since the beginning of February. 
This trend benefits the other major altcoins. This can be seen from the total capitalization of the altcoin sector, which, excluding that of Bitcoin records a market cap of over $440 billion, a level not seen since early January 2018, at the height of the ICO bubble. At that time the highest peak was set on January 8th at $551 billion.
For the 4th consecutive day, the day is marked by rises with over 80% of cryptocurrencies in positive territory. 
Among the big names, in addition to Ethereum, which is up almost 10% today, Polkadot (DOT) is doing much better with a flight of almost 20% and prices close to $22.
Among the top 15, Dogecoin (DOGE) is soaring, up more than 75% from yesterday morning's levels. DOGE is among the top three tokens of the day, with prices once again recovering 6 cents on the dollar. The other two on the podium are UMA, also up over 120% today, and on the third step is Aave, +40%. 
The total market cap rises to over $1,140 billion, a new all-time high. Bitcoin has a 62% market share, with Ethereum coming very close to 17%, its highest peak since July 2018.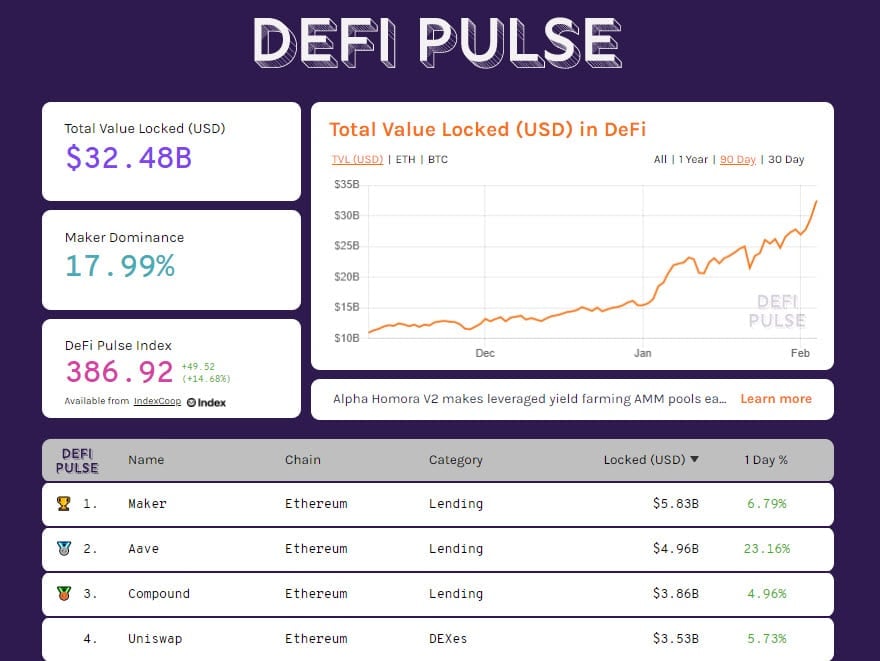 New absolute records also for the total value locked in the decentralized finance with $32.5 billion. Since the beginning of the year in just over a month, the TVL has doubled, thanks to the price rises of Bitcoin and Ethereum, the major tokens used, and the increase in the number of ETH and BTC locked in the various projects. 
Maker is the industry leader, one step away from $6 billion in collateral. Aave and Compound follow.
Bitcoin (BTC)
Bitcoin is back to last Friday's levels, one step away from $39,000. A strong technical signal confirming the start of the new monthly cycle, which started from the double low at the end of January. The overcoming of 39,500 dollars if accompanied by new buying volumes increases the chances of seeing the 41,000 dollars in the coming days. 
Otherwise, a return below $36,500 would trigger the first doubts about a possible reversal in the short and medium-term.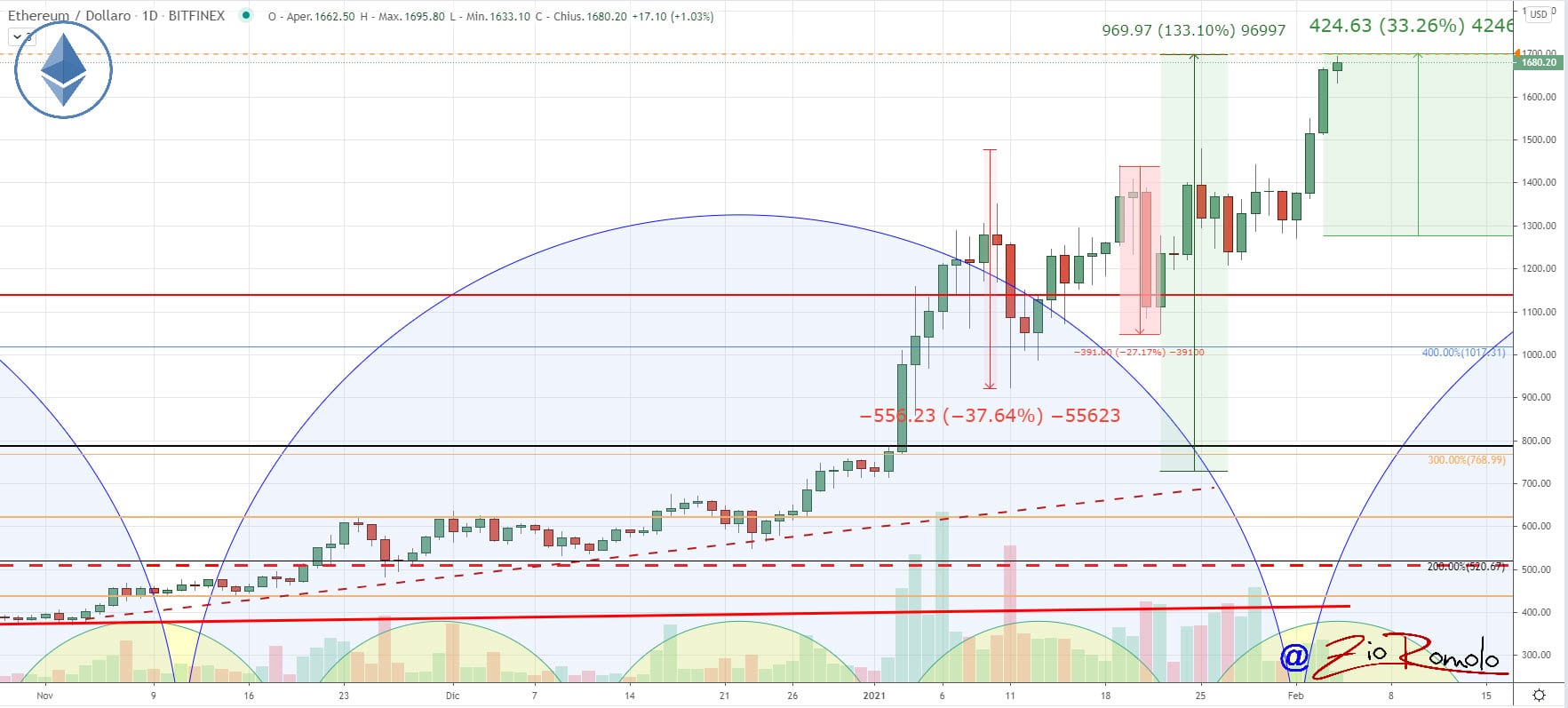 Ethereum (ETH), an increase to follow
Ethereum has been moving into uncharted territory for over 72 hours now. In such a market condition it is useful to follow the bullish trend by identifying support levels. To date, the first level to be monitored is the 1,400 dollar area. 
Right now prices are more than 15% farther away, thus allowing a wide margin for short-term operations.