For the second consecutive day, the red sign prevails for all the main coins with average drops of 2% from yesterday's levels, but the upcoming three Ethereum forks attract the attention of investors who continue to influence the trading volumes, bringing Ethereum to a price of almost $150.
Other green signs include Zilliqa (ZIL) which pushes just above parity (+0.6%), Basic Attention Token (BAT) with a +5%, and Chainlink (LINK) which today marks the best performance with a rise above 15% from yesterday afternoon levels, managing to climb to the 36th position on Coinmarketcap.
Among the worst are Bitcoin SV (BSV), which fell by more than 4% losing the support of $90, and Bitcoin Cash (BCH), which absorbed a few decimals of the decline trying to hold the threshold of $155.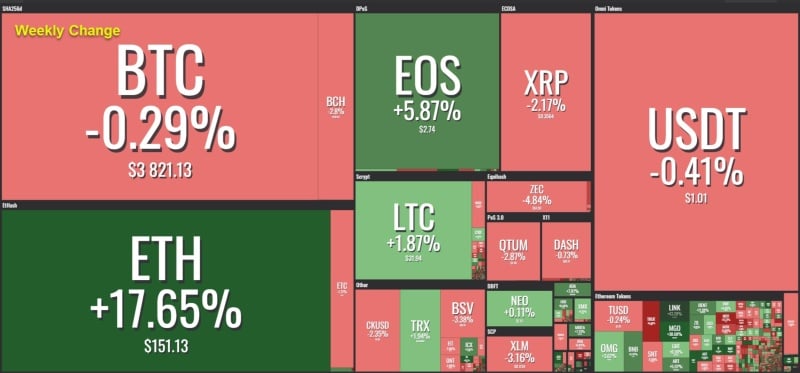 Total capitalisation fell below 130 billion dollars with bitcoin maintaining its market share just over 51%.
Daily trading volumes continue to decrease, updating the negative record of the last two months. The exception is Ethereum which, with over 1.1 billion dollars traded in the last 24 hours, exceeds the daily volumes of bitcoin by 5 million.
Bitcoin (BTC)
After six days of attempts to break the $4,000 mark, without making too much noise and with low volumes, prices are back below $3900. Except for the two days of 27th and 28th December, when prices went to test the 3700 dollars threshold, the fluctuations continue in a range of 200 dollars.
The passing of the days increases the failure of the bullish Head&Shoulders hypothesised in recent weeks. It remains crucial to hold the supports at $3700 and $3500 in order to confirm the accumulation assumptions before resuming the bullish movement started in mid-December. Confirmations can occur only above $4400.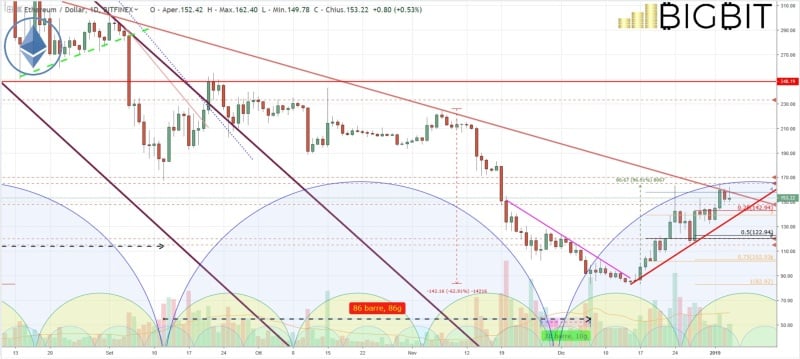 Ethereum (ETH) reaches nearly 150 dollars today
In the last week, Ethereum is the best of the main altcoins with a rise of over 15%.
In the last few hours the umpteenth attempt of Ethereum to rise above $160 fails, but at the moment the $150 support level does not worry. To continue to have bullish confirmations for Ethereum it is necessary to break the 165 dollars in the coming hours, otherwise, there's the risk of testing the bullish trendline in the 140 dollars area.
The good bullish structure started with the low of December 15th will be negatively affected only with descents below 110 dollars.