The last week of May began very well with a Monday that saw bitcoin record a double-digit increase, with the value rising by 10%.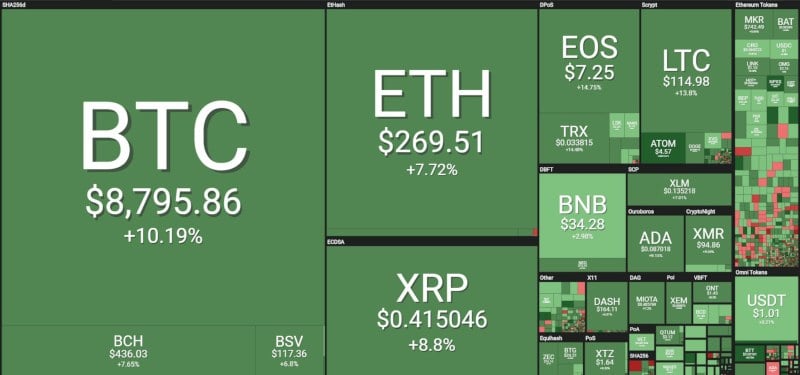 Litecoin and EOS, for their part, recorded increases of more than 14%. A few smaller tokens with lower capitalisation performed even better, and today they are marking substantial increases: Maximine Coin, with 75 billion capitalisation, rose by 40%, standing out as the best of the first 100 cryptocurrencies. Crypto.com chain, on the other hand, in 63rd position with 21 million capitalisation, marked an increase of 37%.
BitTorrent (BTT) is also doing very well, rising 20% and trying to climb the slope after the sharp decline that has characterised it since its launch last February.
Total capitalisation is over $270 billion, which has not happened since last summer. It should also be noted that bitcoin's total capitalisation is over $155 billion for the first time since May 2018 and this leads to an increase in dominance, reaching over 57%.
Ethereum and Ripple are also doing well with daily increases of 8%, although they lose market share compared to bitcoin, precisely below 10.7% for ETH and 6.4% for Ripple.
The value of Bitcoin is constantly increasing
For the first time since May 2018, the value of bitcoin approaches the threshold of 9,000 dollars, a psychological level that, as indicated in recent days, would have attracted prices with the break of $8,350 occurred yesterday. The value of bitcoin thus rises by 15% over the weekend, moving away from the support thresholds of $6,500-6,800. New supports are at $7,500-7,800.
Ethereum
Ethereum, despite the rise of last night and the positive reflections received by bitcoin, fails to go beyond 280 dollars. For ETH, the downward trend remains in the $235 area and consolidation in the $255 area. This would again attract purchases required to push into the $300 area.