Day decidedly on the rise, during which the price of Tezos (XTZ) stands out. More than 95% of cryptocurrencies are in positive territory. Of the first 100, only 5 have red signs.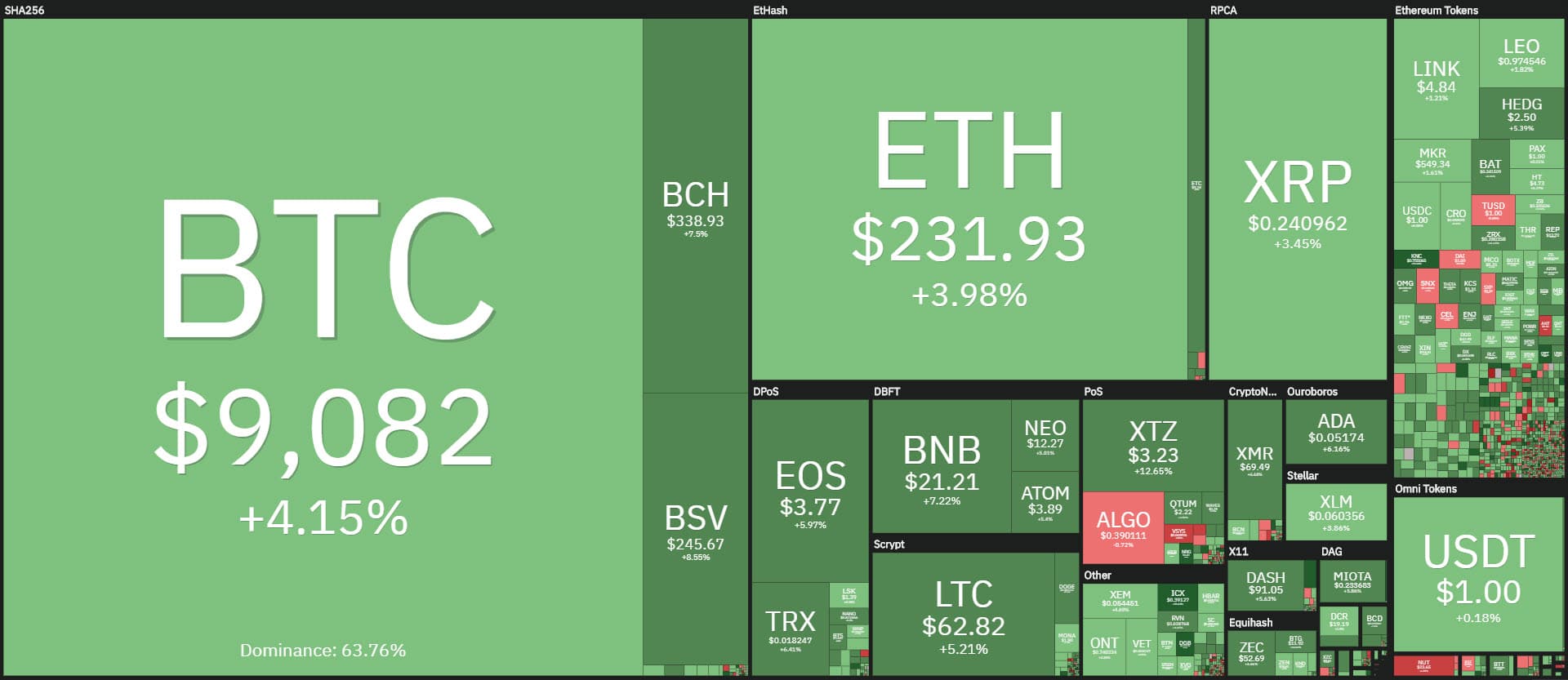 The day is experiencing a particular euphoria after the announcement that the Indian Supreme Court has lifted the ban of the Indian central bank which did not allow banks to accept cryptocurrency transactions.
The rises go far beyond parity. Tezos (XTZ) stands out above all, gaining 13%, making up lost ground against Chainlink (LINK) which in the last 48 hours has attacked the 10th position. 
The price of Tezos returns to $3.25, while Chainlink swings around the parity interrupting yesterday's strong rise. Chainlink remains one step away from $5, a level touched during yesterday, at $4.98, an absolute record.
Bitcoin (BTC), Ethereum (ETH) and Ripple (XRP) rose by about 4%. Very well also Cardano (ADA), TRON (TRX) and Monero (XMR), among the main altcoins, with climbs of over 6%. 
The podium goes to Energi (NRG) with a rise of more than 25% on a daily basis, followed by Icon (ICX), +23%.
Of the top 100, only five have negative signs. The first red sign is from Synthetix Network (SNX), beyond the 50th position, with a decrease of 4%. The biggest drop is from V Systems (VSYS), -8%.
Despite the ups and downs, trading volumes are down from yesterday's highs. Bitcoin's volumes remain around $1 billion on a daily basis on major exchanges. 
BTC's dominance remains unchanged since yesterday, just under 64%. Ethereum also remains unchanged with less than 10% of the market share. Ripple falls and returns to 4%, the lowest level since the end of January.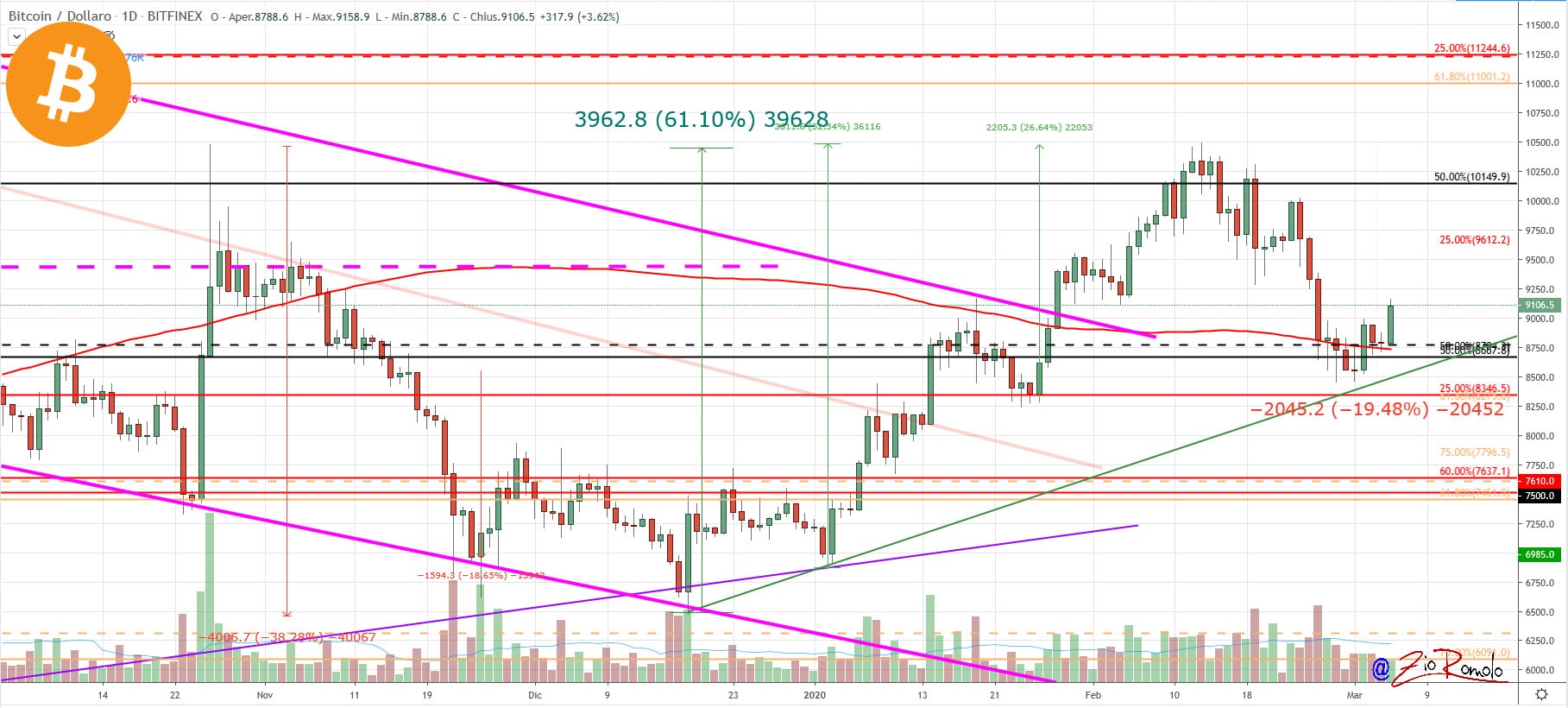 Bitcoin (BTC)
Bitcoin recovers the $9,100 and is one step away from testing the former support of early February now become medium-term resistance. A lunge over $9,200 would push prices to the next bullish step in the $9,550-9,600 area. 
Bitcoin keeps its distance from the $8,500-8,600 dynamic support. Only a break below this level would trigger the first bearish signal after more than two months.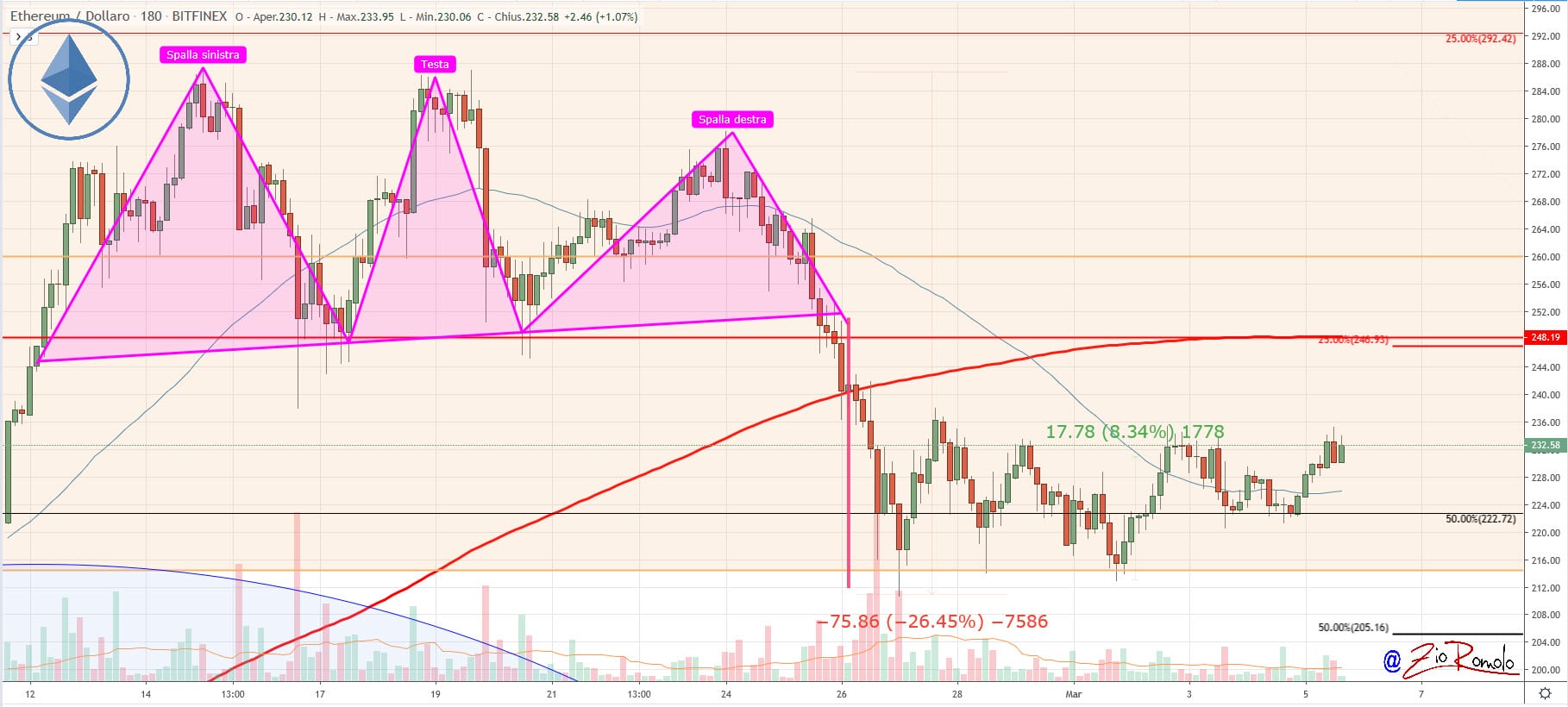 Ethereum (ETH)
Ethereum is also climbing and goes to test the $235 area, a level that for 10 days has always rejected any attack by new purchases. ETH, after the strong downward movement triggered by the break of 250 dollars on February 26th, is again attempting to stabilize prices above area 230-235 dollars, to return to review the $250 area. A consolidation of levels that has seen Ethereum oscillating for more than a week would increase the chances of reviewing the 250.
Otherwise, a return to 220 and then later to $210 would not give a positive signal for the continuation of the recovery.