Today's rises in the crypto market see Bitcoin jump in these early hours with a +5% on a daily basis. Bitcoin, together with Bitcoin Cash (BCH), which rises with the same intensity, is among the best of the top 20.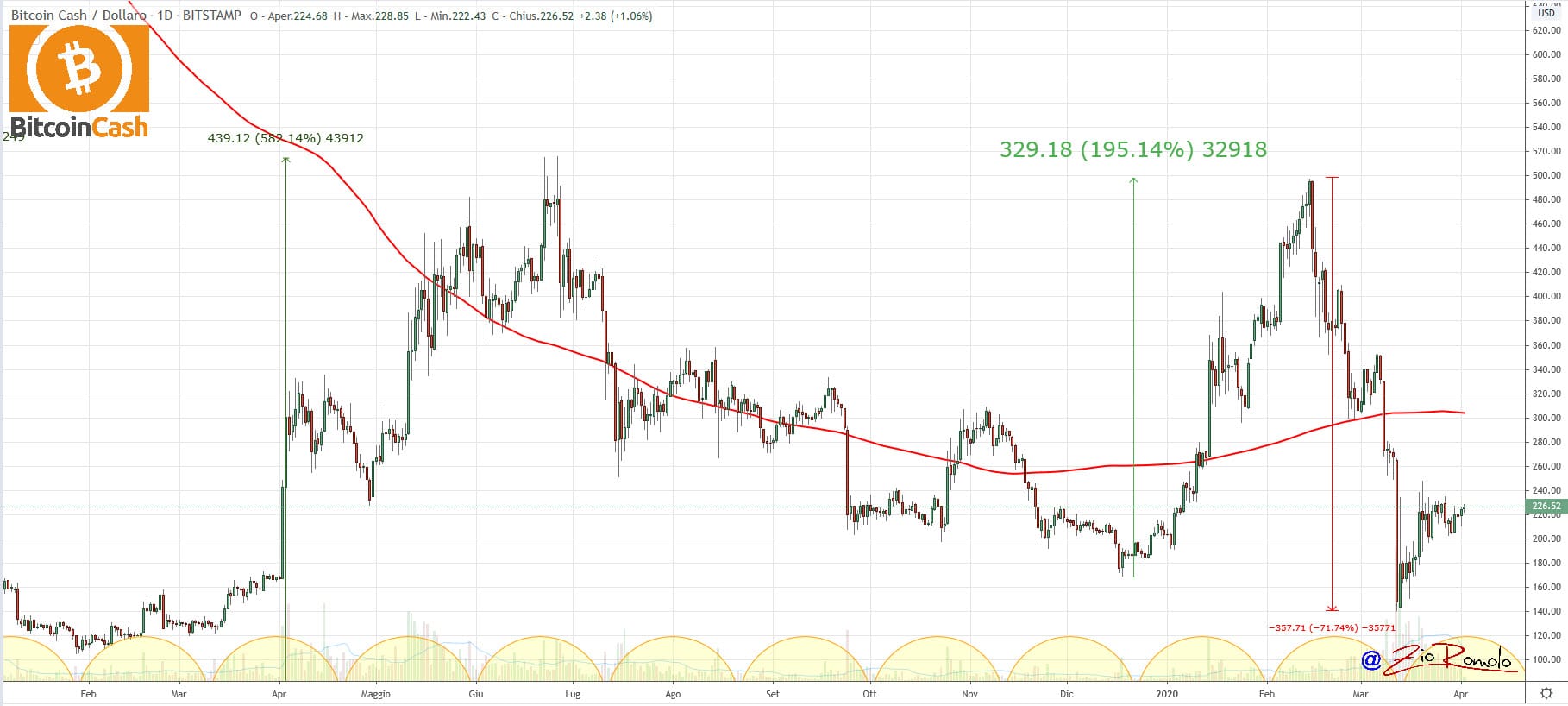 Scrolling through the list of the most capitalized, the first red sign is that of IOTA (IOTA), which today falls 2%. Among the best of the day is Digitex Futures (DGTX), 95th position, with a jump of 25%.
Besides IOTA, there are also Maker (MKR) and Waves (WAVES) who, after yesterday's rises, are suffering from profit-taking. Maker drops 2%, while Waves is just below par with -0.4%. These are the deepest declines, those of Maker and IOTA, which are not particularly heavy.
Volumes are back on the rise. After the uncertainty of the last few days today, volumes are once again over 100 billion dollars, up from yesterday, a positive sign that accompanies today's rises, with a decided prevalence of purchases and a possibility of a return of confidence on the part of operators.
After the lows reached in mid-March with declines involving all assets, Bitcoin returns to indicate a strong correlation with gold. Both of them are showing strong increases. 
Despite a technical configuration decidedly different from that of early March, which for 4 months had seen specular upward movements for gold and Bitcoin, followed by a decorrelation with what happened during the disaster in mid-March, both movements return to show some correlation from the lows in mid-March. 
From the lows of March 15th-16th, gold gains about 2.5%. Bitcoin is doing much better, close to a 30% recovery, although Bitcoin has suffered a deeper hit than gold. This signal could bring back a healthy correlation, a sign of a return of confidence in digital gold. 
The market cap, with today's jump, returns just under 190 billion dollars and tries to regain the threshold of 200 billion, abandoned during the fall of mid-March and which, with these rises, has failed to reconquer in recent days during the rebound that has characterized the last two weeks. 
Bitcoin continues to maintain its market share above 65%, while the market share of Ethereum has remained unchanged since yesterday at 8.2%, as well as that of Ripple at 4.2%.
On a daily basis, Ethereum gains 3.5%, Ripple 2.5%.
Bitcoin (BTC) price jump
With the jump that continues even in these last few hours, the probability of being back in the new weekly cycle is growing. The lows reached during the weekend are to be taken into account as a support from which a rise will now necessarily have to follow in order to continue to give a bullish approach from a weekly perspective. 
To continue the bullish trend on a weekly basis, it is necessary for BTC to break the $6,800 area as soon as possible. Otherwise, the indications would give signs of a prevalence of weakness.
Ethereum (ETH)
Despite falling behind in terms of the intensity of the rise, Ethereum seems to have entered the new 1-2 week cycle. For Ethereum, left behind during the rebound, it is necessary to regain the 140-145 dollars as soon as possible. Ethereum is today below this threshold which already proved to be a good resistance in the pullback last week.
Ethereum needs to avoid returning with quotations under 125-120 dollars, where the possibility increases of a return of downward speculation under 100 dollars, revised for a few hours with the sinking between March 13th and 16th, an area of double minimum from where the current recovery of prices is still valid.