Dogecoin – the favourite cryptocurrency of the man who has the ambition to populate Mars with human life, who has just succeeded to the throne of the richest man in the world, ousting Bill Gates, i.e. Elon Musk – is preparing in 2021 to face an important resistance, represented by the trendline – just touched after the uptrend of the last few days – visible in the price chart below.
After breaking this trendline we will be able to witness a strong acceleration upwards of the prices.
With Tether's increasingly dominant trend, many ALT/BTC charts are losing more and more value and importance, with a few exceptions, and among them is certainly Dogecoin, whose chart has always been a reference point for the Altcoin market and the beginning of the Altseason. 
The chart is super bullish and is currently in a very important bottom level, which is certainly a strong buy signal.
XRP, Dogecoin and John Bollinger
What is the relationship between these 3 names?
As I pointed out in my analysis of the price action of these two important cryptocurrencies, there is a really interesting correlation between the price movements of XRP and Dogecoin, just like the answer that John Bollinger, the legend of technical analysis, gave to my analysis:
Will we soon see Dogecoin follow XRP's giant gains of the last few days?
Volatility as a guiding indicator of price
Studying the volatility with the rate of deviation of the moving average (not the Bollinger bands), we realize that the price is forming a good structure of consolidation and has recently rebounded from the support, represented by the red trendline.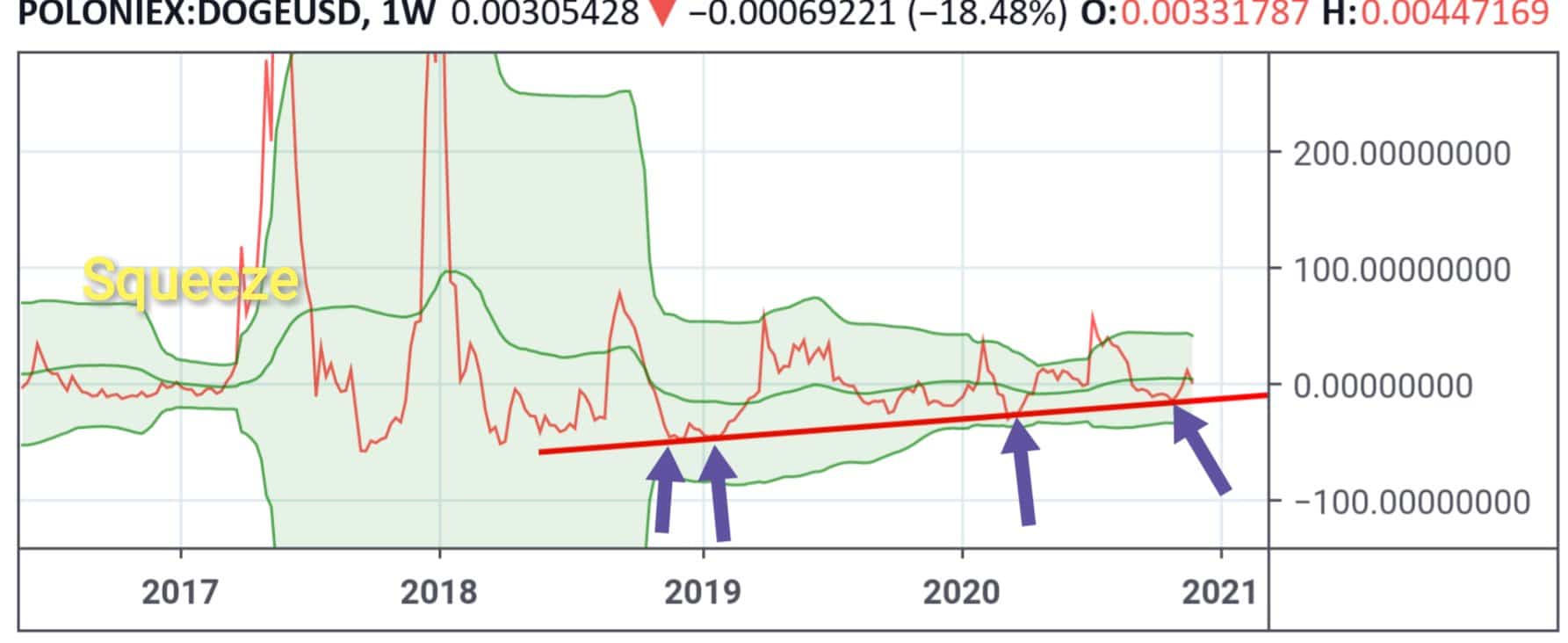 Dogecoin growth from 2014 to date
Dogecoin, although commonly associated with a meme, has grown by about 3200% in just 6 years, which is roughly equivalent to 32 times better performance than the SPX compared in the same time period. Not bad for a coin with a dog logo!
Author
Samu is an analyst and trader at Dogecoin, present on Twitter as QuodSemper.