For a fourth consecutive time, yesterday also saw a negative close for Bitcoin and many other cryptocurrencies, meaning that the closing price was lower than the opening one. 
A sequence of four consecutive negative days has not been recorded since May 2020, when there was less intensity than the current one. 
In 4 days Bitcoin has seen the price fall from absolute historical highs by over 27% and then react to currently observe a reaction that indicates a technical rebound in a short term bearish phase. 
Over a longer period which takes as reference what has happened over the past month, the trend for Bitcoin, as well as the vast majority of altcoins, remains upwards. These movements both upwards last week and downwards these days, increase the daily volatility to 4% – a level not seen since April 2020.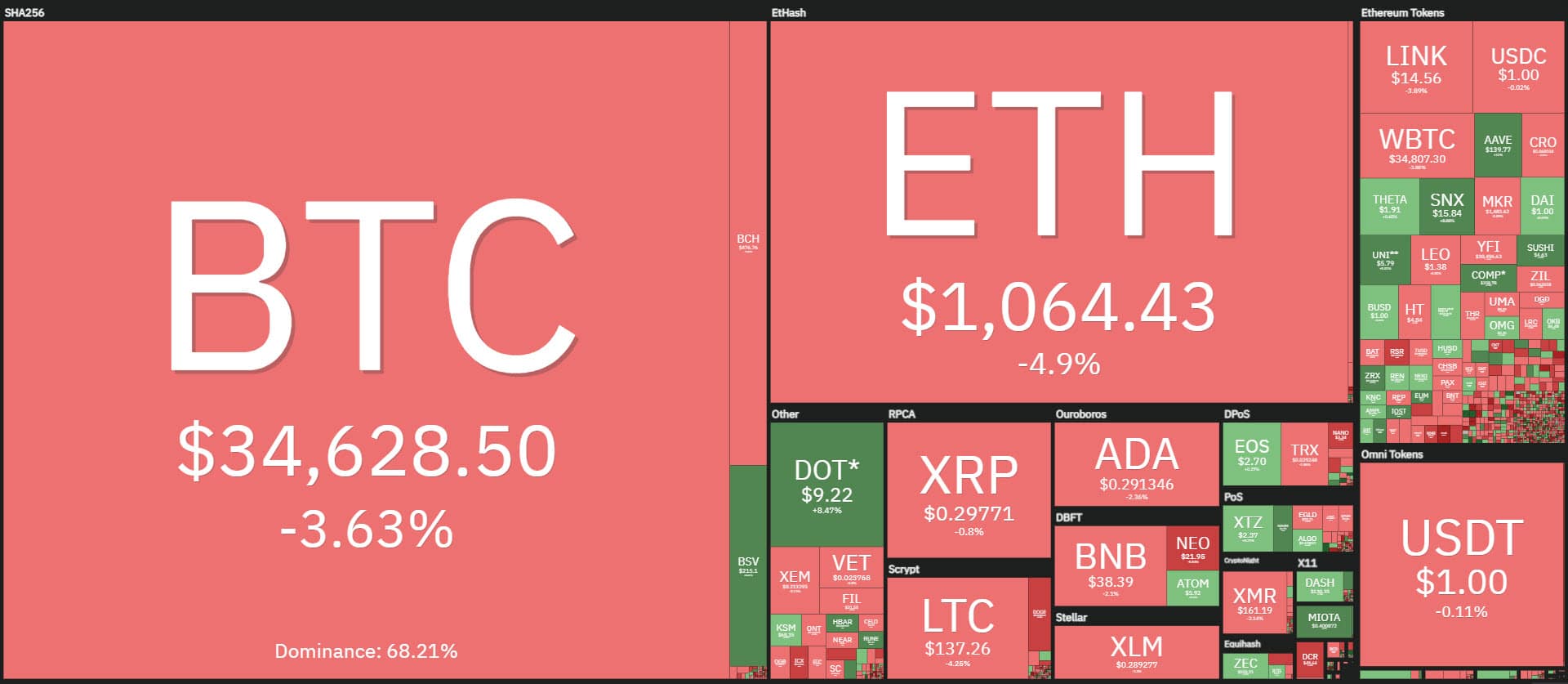 Cryptocurrencies in negative territory
The tensions are also seen today, with 60% of the major cryptocurrencies in negative territory. 
Among the big names in the top 20, only two signs are above parity, Polkadot (DOT) +4% and Bitcoin SV (BSV), +8%. The other big names are all down, with losses averaging over 4%, including Bitcoin. 
Ethereum is doing worse, reaching $1,100 but then falling below that level with a loss of over 6%.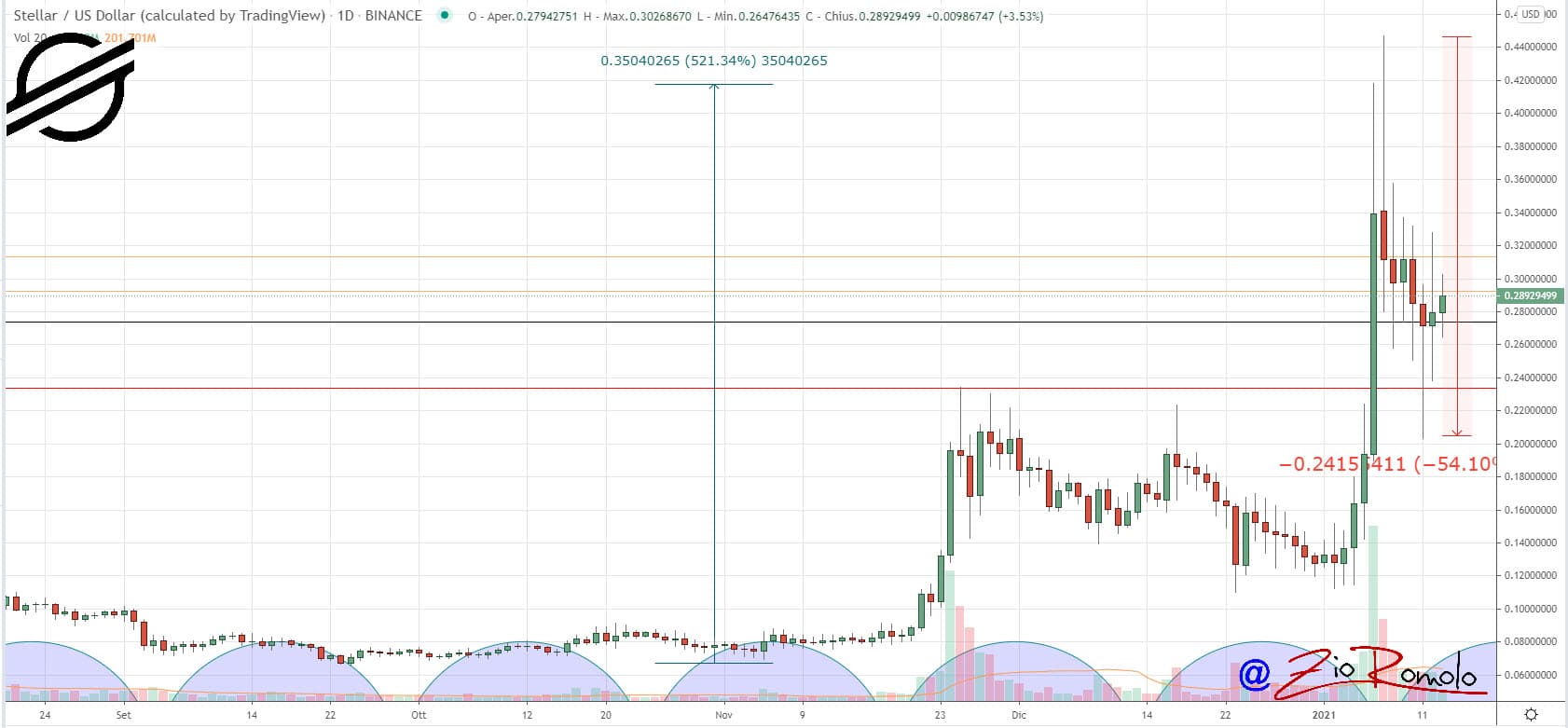 Stellar (XLM) experienced the same intensity of decline. After the strong rises of the last few days, which in some phases of the day saw a movement in a decisive countertrend, Stellar closes in the positive and indicates a reaction that comes after seeing prices sink to 20 cents on Monday, January 11th, with a loss from the highs recorded on January 7th of more than 50% in just 4 days. 
Stellar's reaction, even though it sees a loss today, is a relative loss.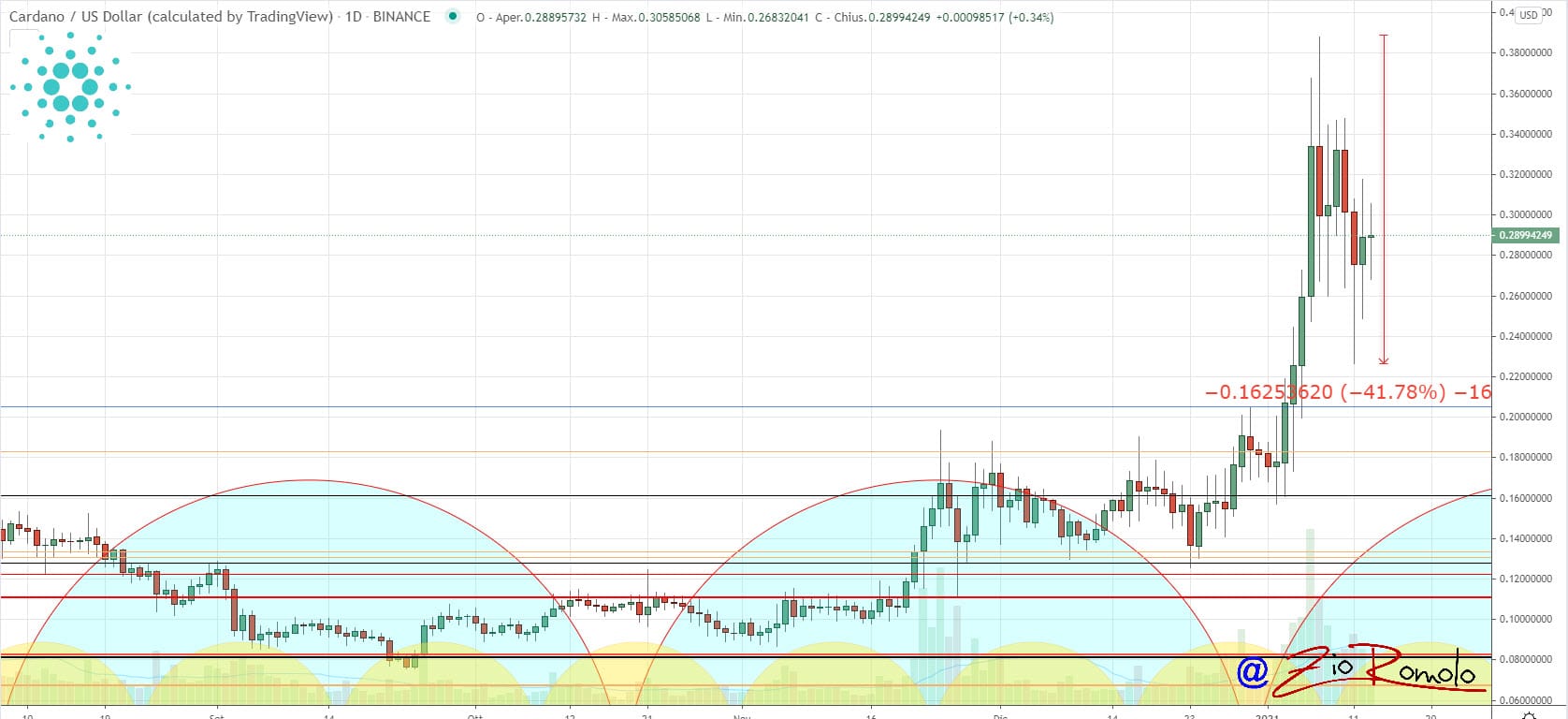 A very similar trend to Stellar among the big names in recent days is that of Cardano (ADA), which has seen a loss of over 40% in 4 days from the highs recorded on January 7th. Cardano had reached its highest peak since May 2018 before giving way and returning close to 22 cents. 
Since yesterday, Cardano has been experiencing a reaction that sees it drop over 5%, consolidating its sixth position in the ranking of the most capitalized coins. 
The volatility of the last few days is not particularly affecting the total traded volume, which have seen a regression from Monday's volumes. 
Total volumes are up to $460 billion, half of the trades of the previous 24 hours. This is not the case for Bitcoin which yesterday, with over $15 billion, marks the fourth day with the highest countervalue volume ever. This is something that is affecting BTC in particular.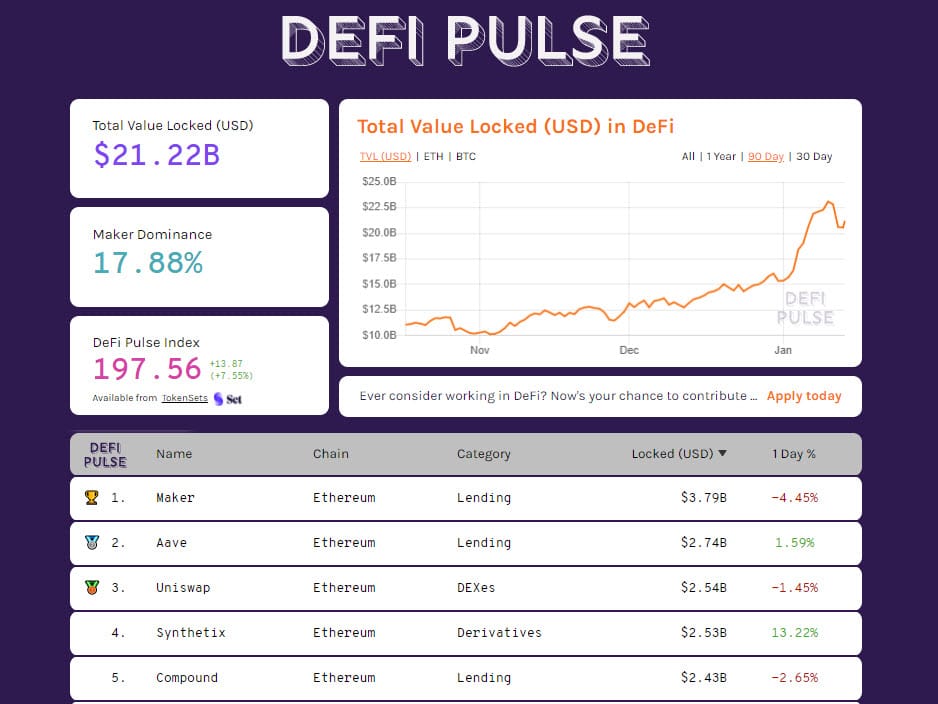 DeFi at $21 billion
DeFi sees the total value locked rise and return above $21 billion. The return of investors to DeFi is also reflected in a growth in the number of ETH and BTC, although far from the records set last October. 
The sector leader remains Maker with $3.8 billion. The second-largest lending platform is Aave with 2.7 billion. Uniswap consolidated its position with 2.5 billion dollars, followed by Synthetix, which offers trading in derivatives and synthetic assets and rises above 2.5 billion dollars, bypassing Compound which drops to 5th position.
Volumes are also up for DEX platforms with around $13 billion traded in the last week, up 20% on a weekly basis and double that on a monthly basis, with volumes on decentralized exchanges now close to the December trading peak, currently standing at $24 billion compared to $25.6 billion last month. 
Bitcoin (BTC)
The short-term phase of weakness continues, with prices struggling to consolidate above the technical threshold of $34,000 which coincides with the previous resistance level of early January, $34,500, an important level before the true support level of $30,500 which on Monday saw prices react, and coincides with the bullish dynamic trendline that joins the rising lows from mid-December. This is the first level to monitor in the event of a return of weakness in the coming hours or days. 
On the upside, the indication that before $38,000 there is no upward recovery for Bitcoin remains valid. 
Ethereum (ETH)
Ethereum is also in a technical rebound phase after seeing prices plunge on Monday to near $920, the lowest level since early January. 
ETH does not see the medium-long term bullish trend compromised. In the short term, however, it is a phase of weakness that requires time to understand where Ethereum prices will establish a minimum as well as a valid support to assess a possible reaction and a return of strength to the upside, strength that at the moment is not possible to consider with prices that remain below $1,200. 
As for Bitcoin, it is useful to monitor the $920 low of Monday even if in the medium and long term the reference support remains the $750 area, which are price levels about 30% away from current levels. It would represent another downward movement with an intensity similar to that recorded in 24 hours between Sunday and Monday.