The day sees the price of Dogecoin (DOGE) flying like a rocket, with a daily rise of 220% and a price that for the first time in history rises to 45 cents on the dollar. 
A week of historical records is coming to an end. Bitcoin has been close to the $65,000 mark for the first time in recent days, while Ethereum has risen above $2,540 for the first time in history.
The week is set to end positively for the third time in a row, which has not happened since last February.
Dogecoin, price rises and volumes explode
Volumes continue to climb and in the last 24 hours have reached nearly $1 trillion on the major exchanges. Dogecoin volumes are also exploding, exceeding $30 billion in the last 24 hours, tripling bitcoin's daily trades, five times higher than Ethereum's volumes on major exchanges. 
To compare with bitcoin's highest records traded within 24 hours, on only two occasions, in January and February this year, BTC traded $27 billion for the first time. 
This is due to Elon Musk's tweets returning to support DOGE's bullish momentum. 
Doge Barking at the Moon pic.twitter.com/QFB81D7zOL

— Elon Musk (@elonmusk) April 15, 2021
This brings DOGE to climb to the 5th position for the first time in terms of capitalization, the highest ever in the cryptocurrency's history. 
In contrast to the past few days, Ripple (XRP) has seen one of its worst declines to date, falling about 14% and failing to break through the $2 mark, a level it had touched during the week. 
DeFi has been close to $60 billion worth of collateral in recent hours. 
The new records are due to the appreciation of the value of Ethereum, which has fallen from its historical highs reached at the beginning of April. Meanwhile, the slow rise of tokenized bitcoin continues, rising above 147,800 BTC for the first time since the beginning of February.
At this time, the total value of tokenized bitcoin on decentralized finance projects reached a new all-time high with more than 12.3 billion in dollar value. 
Bitcoin (BTC)
The week of glory for bitcoin is set to end with prices above $61,000. If this level is confirmed by Sunday evening's close, the bullish movement that began at the end of January will be consolidated. Next week it will be important for the price of bitcoin not to fall below $58,000, a level that coincides with the bullish dynamic support.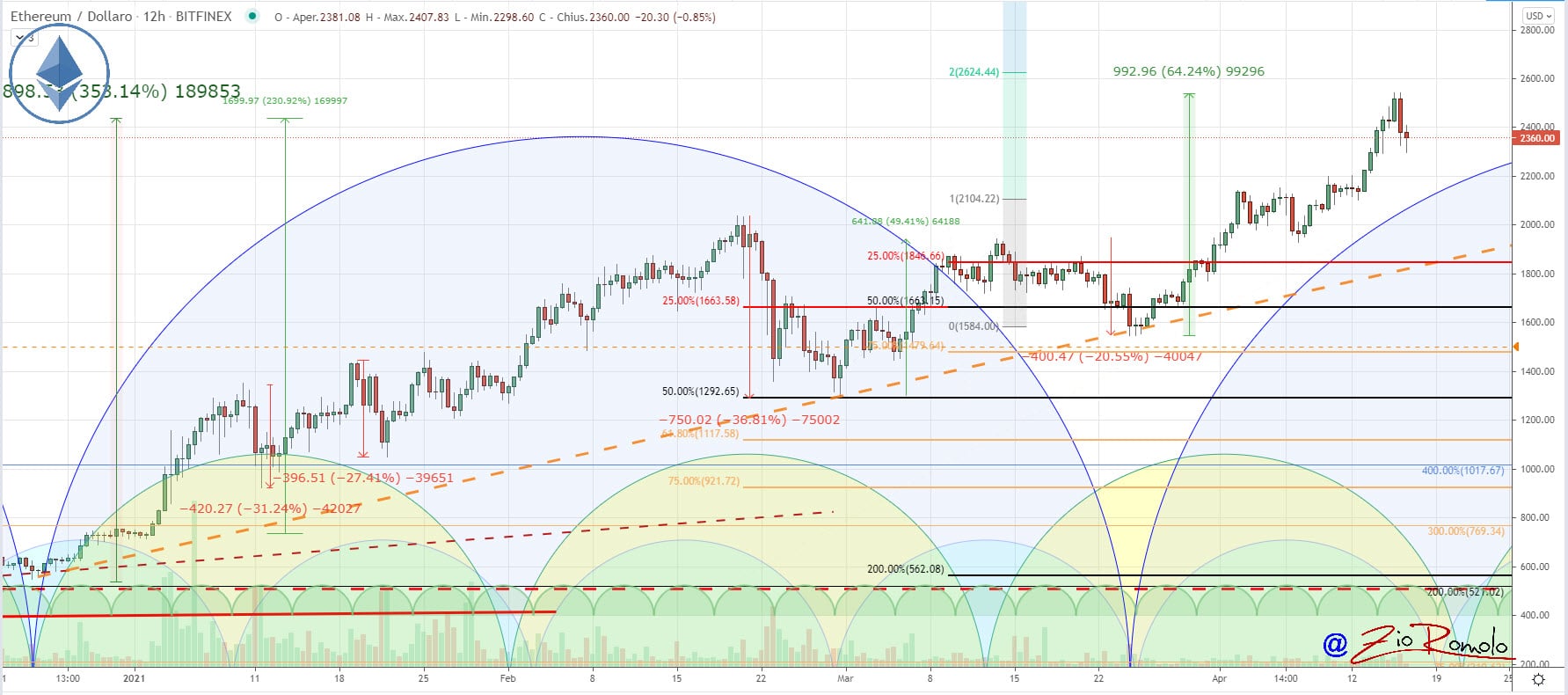 Ethereum (ETH)
Ethereum in recent hours recorded new historical records, pushing above $2,500 for the first time, only to retrace in recent hours by more than $200. It is a movement that is not worrying, as it is due to profit-taking. For Ethereum, danger levels will only arise with a return below 1,900 dollars.