A glorious week for the cryptocurrency sector is coming to an end, driven by news that has strengthened the Bitcoin trend and consequently also the altcoins, benefiting from a favourable momentum that has been present since the beginning of the year.
If Bitcoin prices were to close at today's level, above $46,000, it would be the best week ever for BTC with a gain of over 20%. Ethereum does not take a backseat and although it is holding back its weekly gain to just under 10%, it continues to chart a parabolic rise that began in November. Ethereum in recent hours has updated its all-time highs to $1,840. 
XRP also had a positive week, with a weekly gain of 40% and a price increase of just under 60 cents.
Among the big names, Binance Coin (BNB) was the best riser on a weekly basis, doubling its value in a week to over $130. Another noteworthy rise was Cardano (ADA) which climbed 80% from last Friday's levels, touching the $1 mark for the first time in over three years. For the first time in its history, ADA took fourth place in the rankings behind Tether, with over $28 billion in capitalization. USDT these days exceeds $31 billion for the first time. 
Among the top 50 with the highest capitalization, there are only three tokens that hover just below parity for weekly returns. These are tokens from the decentralized finance ecosystem, namely Aave, Maker and UMA. It is a negative balance, but that should not be misleading as all three have risen over 300% since the beginning of the year, in line with the many other DeFi tokens. 
Decentralized finance is currently breaking through the $40 billion mark in total collateral.
Maker maintains the lead with $6.5 billion, followed by Aave, one step away from $6 billion, and Compound at $4.6 billion.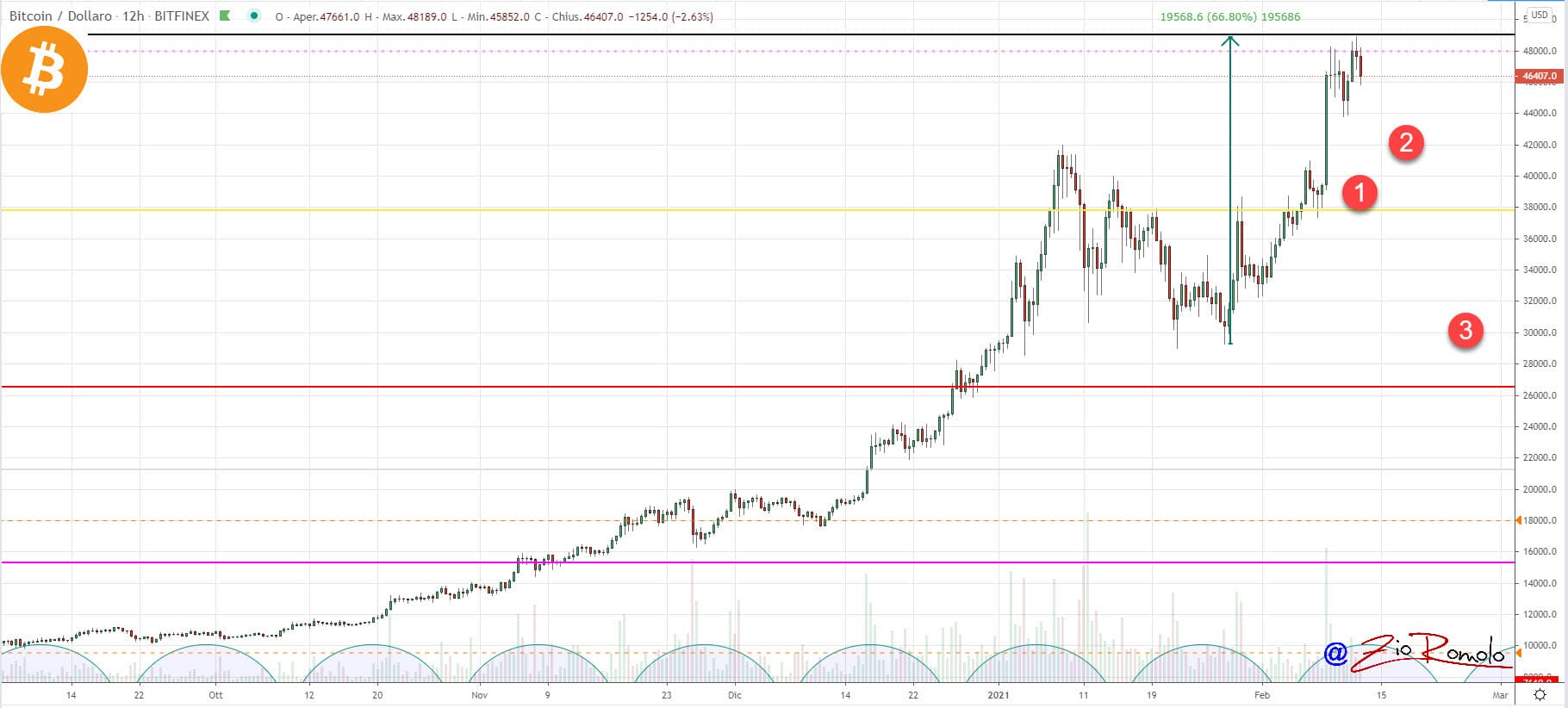 Bitcoin (BTC), a bullish trend
Technically, Bitcoin remains pegged at $47,000, demonstrating bullish strength in line with the start of the monthly cycle that began in late January and is now entering the first most delicate phase since its inception. 
Over the weekend it is necessary for Bitcoin prices not to fall below $43,500.
Ethereum (ETH)
Ethereum is making a stronger mark on the uptrend, climbing above $1,800 for the first time, a gain in the last 30 days of over 60%, double what Bitcoin has done. Ether continues to show no bearish signals in either the short or medium term. Only a reversal below 1,400 dollars would trigger the first warning signals.